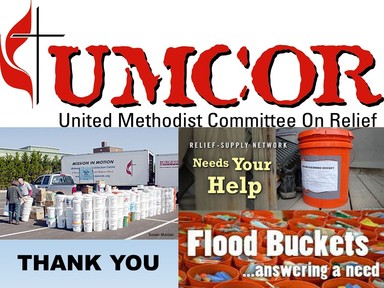 Kid's Corner: Children to Pack
Flood Buckets for UMCOR
- Sunday, September 23
Please join the Children's Ministry Department on Sunday, September 23 at 10:30 as we pack UMCOR flood buckets for Hurricane Florence relief in the wake of this historic, terrible storm. We'll be in rooms 112/114 downstairs.
Even if you can't help to pack at that time, please check the list below and let us know if you can contribute items to this important effort. We will be purchasing materials to pack 2 to 3 buckets from our children's ministry funds. It would be wonderful if we could assemble 5 to 10 buckets to deliver to UMCOR.
A container for donations will be near the Fellowship Hall.
Please hold everyone in prayer who will be in harm's way at the end of this week.
See you Sunday,
Children's Director
*************************************************************
Items Needed for Flood Buckets:
•
One five-gallon round bucket with re-sealable lid
(14.35" h x 12.19" w x 12.19" d) /
No screw lids /
May be used, but must be free from all residual product /
Advertisements on the outside acceptable
• One 32-64 oz. bottle liquid laundry detergent
• One 16-40 oz. bottle liquid concentrate household cleaner /
• One 16-34 oz. bottle dish soap
• One 4-8 oz. pump spray air freshener (three solid, or three gel fresheners also acceptable)
• One 6-14 oz. pump spray insect repellent (pack of 10-20 wipes also acceptable) /
Pump spray bottles must have protective covers
• One scrub brush w
ith or without handle
• 18 re-useable cleaning wipes /
No terrycloth, microfiber or paper towels /
Remove from packaging
• Five scouring pads sponges /
No stainless steel pads with soap in them /
Remove from packaging
• 36-50 clothespins / may be put into small resealable bag
• One 50-100 ft. clothesline (cotton or plastic line)
• 24 roll of heavy-duty trash bags (33-45 gallon sizes) /
Remove from packaging
•
Five N95 particulate respirator dust masks (1-3 mm thickness) / No surgical masks
• Two pairs kitchen gloves / Durable for multiple uses / Remove from packaging
• One pair work gloves / Cotton with leather palm or all leather
Important Note: All items must be new with the exception of the bucket and lid.
A "Fried Green Tomato" Lunch
at Whistle Stop Cafe!
The Carmelites Travel Group has planned their next trip, and you're invited! They will travel to the Whistle Stop Cafe in Juliette, Georgia on Monday, September 17th. They'll meet at the church at 9:30 and then enjoy a Fried Green Tomato lunch!
Please sign-up on the Connect Card in your Sunday bulletin, or contact
June Spruell
if you would like to join the group.
Church Picnic at Berkeley Lake:
September 23 - From 4:00 - 6:30
Everyone is invited to a church picnic, cookout and sing-along at Lake Berkeley Chapel on Sunday afternoon, September 23.
There will be lots of fun, fellowship and good food!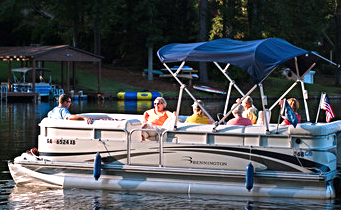 Schedule:
4:00 PM - A BOUNCE HOUSE and other fun activities will be set up for the children, while adults have some time to chat with their church friends, and there will be boat rides for everyone!
5:00 PM - Dinner is served!
6:00 PM - A sing-along will be held outside in the picnic area.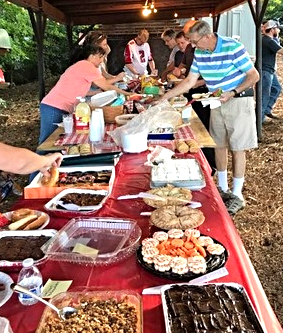 Hamburgers, hot dogs and drinks will be furnished. Everyone is asked to please bring a side dish or dessert to share. (And please remember to bring a utensil to serve it with.)
Mark your calendars so you don't miss the fun!
Location: 4043 S. Berkeley Lake Rd., Berkeley Lake, GA
Directions: From Mt. Carmel:
Turn RIGHT out of the church parking lot.
Take the first LEFT (not into Highcroft subdivision) onto Lou Ivy Road.
Lou Ivy Road dead-ends into Bush Road – turn RIGHT.
Bush Road dead-ends into S. Berkeley Lake Road – turn RIGHT.
The Chapel will be immediately on your LEFT.