In the Newsletter this Week:
From the Pastor
Welcome Marilyn Reynolds

Thank you for Bulletin Cover

Thanks to Leia and Han!

Final Wednesday Holy Communion: Dec. 23

Christmas Eve Services / Office Schedule

No Newsletter on December 30

Children's Ministr

y

Staff Christmas Gift

Epiphany Sunday: December 27 - one service only

Volunteers Needed on December 27

Homework Club Resumes: January 7

Women's Book Club: January 8

Trinity Soup Kitchen: January 10

Altar Flowers for 2016

NCM: Coats & Blankets Needed

Prayers / Thanksgivings

Ways to Make a Donation
---
We Need a Little Christmas Eve
Do you know that song,
Yes, we need a little Christmas.

Right this very minute.

It hasn't snowed a single flurry.

But Santa, dear, we're in a hurry.
This is the day of the year when I sing this song. I'm in a hurry, trying to get Christmas things done, right this very minute.
I am uneasy about presents. Have I done enough? Is there a present for each of the nieces and nephews?
And it's not just about whether there is a present for everyone. I am uneasy about whether the presents will be good enough. Most of our family members have so much stuff, so where possible we have tried to purchase experiences rather than physical gifts. Last year they said they liked the restaurant gift card we gave—did they really like it or were they just being kind? Too late, they're getting it again!
Today is the day I worry about whether I have all the ingredients for the holiday meal. Are there enough carrots for the carrot soufflé? (Actually, a better question is whether there is enough sugar for this recipe!)
The funny thing is, all these worries are about preparations for Christmas Day.
In contrast, I'm not at all uneasy about Christmas Eve. No matter what else happens that day, when we gather in the sanctuary and share in Holy Communion, God will be present.
We will sing carols about angels and shepherds. We will hear the story of an infinite God whose love is so immense that God becomes one of us.
We will remember that all of this is not about what we are giving and getting, what we are cooking and serving. It's not about what we are doing, but about what God is giving.
Unlike Christmas celebrations, which can become questions of whether there is enough, Christmas Eve is the time when we turn our hearts to the one who gave everything to be with us.
I hope that, wherever you are, you have an opportunity to celebrate Christmas Eve. I hope to look in your eyes over the light of a candle and sing Silent Night with you. If you are traveling, it is my prayer that you have an opportunity to share Christmas Eve with another church family. If you are sick or unable to get out, I pray for a moment of peace, a time of hearing the story in a way that reveals God present with you.
Instead of "we need a little Christmas", what I wish for us all is more Christmas Eve.
I'll see you tomorrow!
Pastor Cyndi
P.S. We need a little Epiphany, too! This Sunday at 10:30 with one combined worship service.
---
Welcome New Member!

We are happy to welcome Marilyn Reynolds as a member of Mt. Carmel!
Marilyn was baptized and joined the church at the 9:30 service on December 20.
---
Bulletin Cover Thank You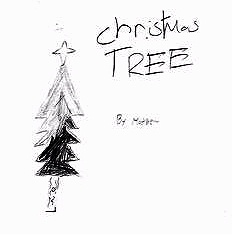 Thank you to Matthew & Nicholas Follmer for their drawings on the bulletin covers last Sunday!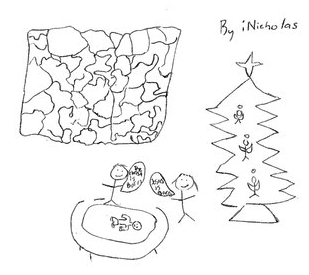 ---
Thank you Leia and Han!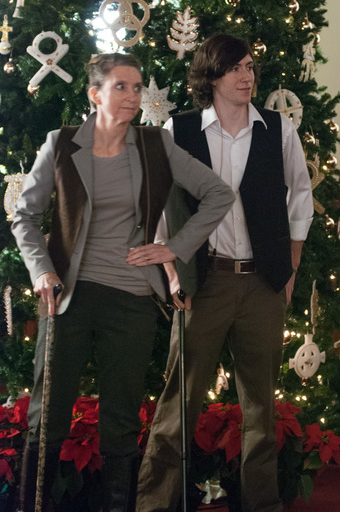 We appreciated the visit from "older" Princess Leia, Han Solo and Darth Vader last Sunday!
We hope that everyone enjoyed the Advent sermon series .... The Force (Love) Has Truly Awakened!
---
Holy Communion - Wednesdays During Advent: 6:30 - 7:00 p.m.
A moment of peace, silence & prayers provided
to the congregation
in the sanctuary.
December 23
---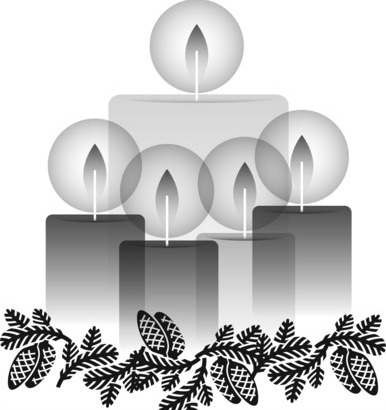 Christmas Worship and Office Schedule
Christmas Eve
There will be two worship services on Christmas Eve, December 24th. Both will include Holy Communion and candlelight.
The first is at 6:30 PM (childcare offered) with another at 11:30 PM (no childcare.)
Holiday Office Hours:
Dec. 24 - 30: Office Closed
Dec. 31: Office Open 9 - 12
Jan. 1: Office Closed
---
No Newsletter on December 30
Since the office will be closed Dec. 24 - 30 and Jan. 1, there will not be a newsletter sent next week. The newsletter will resume on January 6.
Merry Christmas & Happy New Year!
---
Children's Ministry
Sunday School
Sunday, Dec. 27: Combined Sunday School Class
The 27th is a One Service Only Sunday, followed by a pot luck lunch in the Fellowship Hall. We will have combined Children's Sunday School classes after the children's sermon at 10:30.
Our lesson will focus on the Three Wise Men.
Sunday, January 3
Sunday School classes will be back to our usual format. The lesson will be from Mark 1:1-45, "Jesus Begins His Ministry," and one of the stories is of John proclaiming Jesus' coming and then baptizing him.
We will focus on how Jesus showed people what it meant to be loved and cared for by God. Instead of making us feel bad and powerless, Jesus came to help us feel loved, forgiven, and free – to show God's love to us.
Director of Children's Ministry
---
Thank You from the Staff
Thank you for your generous giving to the Mt. Carmel Staff Gift this Christmas. It is a pleasure to work with you all at a church where we feel so appreciated.
We wish everyone a wonderful Christmas and New Year!

With much love,
Pastor Cyndi, John, Marian, Suzanne, Raven, Cindy, Chris, Lamar, Johnny and Charles
---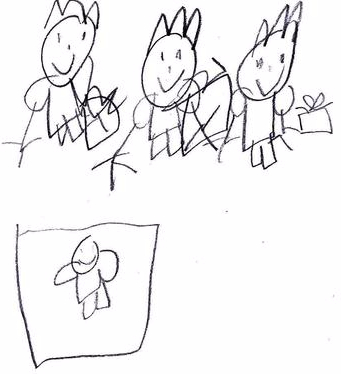 Epiphany Service and New Year's Lunch - December 27 - 10:30 a.m. only
There will be an Epiphany worship service at 10:30 AM on the Sunday after Christmas.
After the service, everybody is invited to a COVERED DISH LUNCH in the Fellowship Hall. Please bring a dish to share that represents your traditional New Year's meal. Drinks will be furnished.
---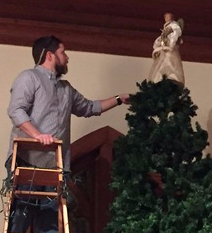 Volunteers Needed December 27 for Tree Removal
Following the lunch on Sunday, December 27, the sanctuary Christmas tree has to be taken down.
Volunteers are needed to undecorate the tree, take it apart, and carry it back into the attic. Please consider staying for a few minutes after the lunch to help.
Thank you!
---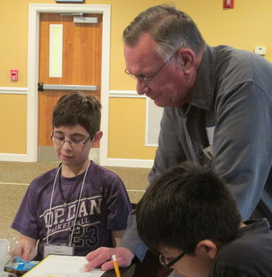 Homework Club R
esumes on January 7
The Mt. Carmel Homework Club for local elementary school students meets weekly on Thursdays from 3:30 until 5:00.
If you would like to help these students with their homework, please contact
Lisa Long
for more information.
---
Women's Book Club: January 8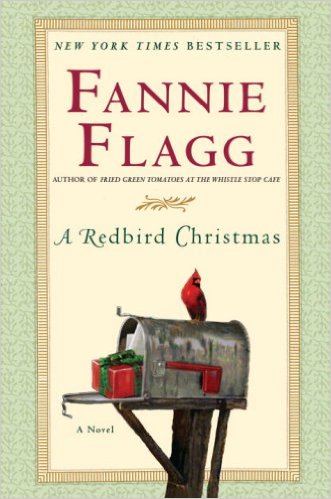 All women are invited to join the Mt. Carmel Women's Book Club on Friday night, January 8th at 7:00 p.m. in the History Room.
The book of the month is "A Redbird Christmas" by Fannie Flagg.
---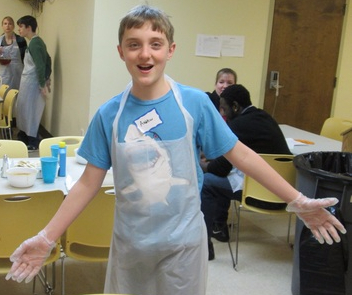 Youth to Trinity Soup Kitchen: January 10, 2016
Trinity Table (Trinity Soup Kitchen) has been serving the hungry of Atlanta since 1982. They serve everyone who comes to the Table a hot meal and give each guest a to-go bag of food as well. This ministry is successful because of the work of dedicated volunteers.
On Sunday, January 10, our youth, along with adult volunteers, will be going to Trinity Table to serve.
In order to serve the approximately 250 guests, we need your help. Please look below and also on the Connect Card in your Sunday bulletin to see if you can help with any of the items needed. You may either check the boxes on the back of the Connect Card, or contact the church office to sign up.
Then just bring your donations to the church kitchen by January 8th. Please make sure that you put your name and "Trinity Soup Kitchen" on your donation when you bring it to the church. (Soup should be frozen in gallon zip-lock bags please.)
If you would like to go with the Youth to help serve, you may sign up for that too! Thanks!
Needed:
1 gallon vegetable-beef soup (need 35 gallons)
3 boxes granola bars - any type (need 300 bars total)
Help mix peanut butter and jelly on Saturday
Help serve at Trinity on Sunday
---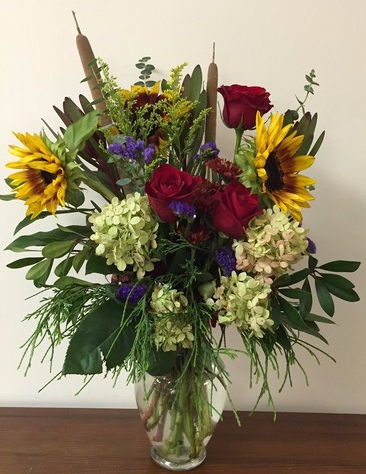 Altar Flowers Needed in 2016
It's time to sign up to sponsor flowers on the altar each Sunday in memory or honor of a loved one.
If you would like to sponsor an arrangement, please check the box on the Connect Card in your Sunday bulletin, or contact the
church office
. (770-449-4498)
Cost is $40.00
---
Prayers and Concerns
Please join with others in our church family in praying our concerns and thanksgivings this week:
Prayers
Lorrie Ignatius: recovering from hip replacement on Monday
Jacque Tapley: loss of her job last week
All those traveling for holidays
Steve Pearson: in rehab from stroke
Jeanne Manget & her friend Elizabeth: recovering from auto accident
Cynthia Currence: daughter & granddaughter moving in with her following a divorce
Wife & children of Phil Griffin's friend who recently died / prayers for all of those with addictions and for those that love them
Lila Hunter: all those for whom the holidays are difficult
Ann Rikard's friend Matt with metastatic cancer
Jenny Jensen's friends with cancer and another friend who attempted suicide
Prayers for all people
Sam Tapley's mother - hospitalized
Leslie Raymer's cousin Thomas: serving in Afghanistan - missing Christmas at home
Jeanne Manget's mother who is now in hospice care - prayers for peace for her and their family
Thanksgivings
Marilyn Reynolds was baptized and joined the church on Sunday
Lorrie Ignatius in church on Sunday, after hip replacement last Monday!
---
Ways to Make a Donation Electronically
Thank you for your support of Mt. Carmel!
There are many ways to give: You may use a Debit Card, Credit Card, or PayPal, o
r you may make
an automatic electronic funds transfer on a
one-time or recurring basis.
Click
HERE
to give electronically.