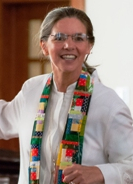 This morning, I sat at the altar rail with the preschool children. We talked about Jesus, and what Jesus said.
I told them about Jesus turning the tables in the temple, and how that made people mad. Some of the leaders in Jerusalem were so mad, they decided to get rid of Jesus. We talked about putting Jesus' body in a tomb, and how they rolled a giant stone in front the tomb.
It's hard to talk about this with preschoolers! (And it's hard to talk about this with adults, too!)
They listened, and no one seemed surprised that a good person was hurt in this way.
But then I went behind the altar rail and rolled the stone away so they could see what happened. The tomb was empty, and angels told the good news. "He is not here. He is risen!"
One of the little girls spoke out loudly that this could not happen. "Dead people don't come alive!"
She's right. Most days dead people don't come alive. They knew 2,000 years ago that dead people stay dead. That's why they were surprised and frightened by what they found—and did not find—in the tomb.
It is the story of a world where no one is surprised when the innocent suffer. Those with power seem to win; those who speak of showing love appear naïve and vulnerable.
We tell the story every year, of a love so powerful that God says no to the status quo. We tell the story of a God whose love is inexhaustible, whose love takes on our suffering and sins.
We tell the surprise ending. Love was strong enough to conquer sin and death. Love tore through any barriers we would place between ourselves and God.
It's an amazing story, and it's our story. We should tell this story more often than Easter Sunday. We should tell it every day!
I'll see you this Sunday,
Pastor Cyndi