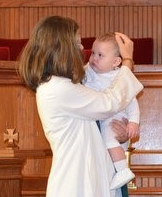 On Sunday, we read the Beatitudes in worship. What a strange collection of sayings. Are you grieving? You're blessed. Do you wish the world were better? You're blessed. Are you surrounded by people who need help? You're blessed. Did you break two kitchenaid mixers and burn the cookies this weekend? You're blessed!
Jesus seems to expand who is blessed to include everyone: the poor in spirit, those who mourn, the put-upon and those longing for justice. God's kingdom is for everyone.
At Mt Carmel, we say that we "live, love, learn, and labor following the example of Christ." In other words, we extend God's blessing to everyone. It doesn't matter who they are. God is reaching out to them, and wanting us to be part of God's invitation.
This week, I asked you to practice hospitality in some way. How is that going? Have you had a conversation with that coworker or neighbor?
When I walk past through the neighborhood in the evenings, I see blue lights of televisions and computer screens. I think loneliness is part of the reason that serial television watching is so prevalent. We were created for relationships, created in the image of a Trinity God, Father, Son and Holy Spirit. When we don't have good relationships, there is a hole that needs to be filled.
When you help someone become part of a community, especially a church community, you are helping them become the person God created them to be. Introduce someone, not only their name, but in a way that helps them make a connection. Names are easily forgotten, but if you introduce someone with a bit of who they are and their passions and interests, you create an opening for connection and friendship.
At Mt Carmel we have something precious, a treasure that others need. We know that God's love is for everyone. We trust that God has not given up on us, and is working within us to bring healing and peace. There is no need to turn to "more", "better", or "busyness" to fill the hole inside. Share a bit of yourself by being a friend, and you can't help but share God's love.
God never stops inviting, welcoming, blessing. Most of the time, that's through you and me.