In the Newsletter this Week:
A Note from Reverend Michael
Upcoming Sermon Series
Security Reminder from Trustees
Condolences: Memorial Service for Bill Chappell
Lunch Bunch: July 23
NCM Needs
Monday Night Study: July 24
Youth News
Thank You Very Much!
Outreach Opportunity: Family Promise Aug. 6 - 13
Homecoming / Heritage Sunday: August 20
Kid's Corner
Women's Book Club: August 4
Preschool Consignment Sale
Prayers / Thanksgivings
Ways to Make a Donation
---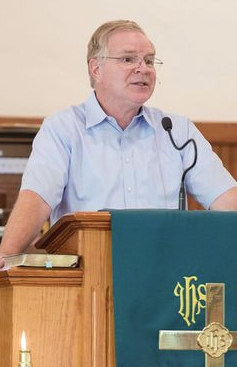 A Note from
Rev. Michael
If one thing should characterize our lives as Christians, it is joy. And one expression of that joy should be praise.
We believers don't find our joy in what goes on outside us, but from what goes on inside us. Paul reminded us that the kingdom of God is not about any of those outside things but about "righteousness and peace and joy in the Holy Spirit." (Romans 14:17).
Blessings,
Rev. Michael
---
Upcoming Sermon Series
Many moons ago I read a book by Philip Yancey entitled "Reaching for the Invisible God." I realized that more often than not, the book's title was closer to reality for most of us than we care to admit.
For the next few weeks we are going to take a journey towards this invisible God in an effort to build a strong relationship with the One who created us, sustains us and offers us abundant and eternal life in Him. I'll draw from insights gained from my readings, personal experiences and spirit guided inspiration as we journey together.
I invite you to make an extra effort to be here each Sunday as we move closer and closer to this invisible God.
Blessings,
Reverend Michael Martin,
Pastor - Mt Carmel United Methodist Church
Cell: 770-597-7057
---
Security Reminder from the Trustees
Everyone knows that no matter where you are, even at church, we need to be mindful of security. It's just a fact.
I mention this because this past Monday night we had an overnight "visitor" here. I'm very glad to report that no intentional harm was done to our property or, more importantly, to any personnel, but it did happen.
So, we all need to make sure all of the doors and windows are locked when they should be. Our facility is used by many folks during the week and it is imperative that we are security conscience. We want to have "open hearts and open minds", but doors and windows left open are not desirable and not a part of any mission statement.
Thank you for helping to keep Mt. Carmel a safe place!
---
Condolences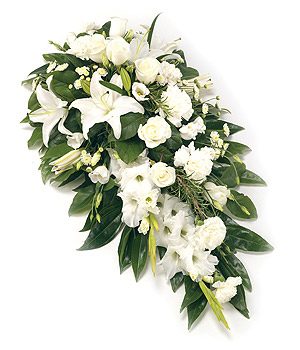 Our sympathy is extended to the family of Bill Chappell who passed away on Monday, July 17, 2017.
(Grandfather of Mercer Griffin)
A memorial service will be held THIS SUNDAY, July 23rd, at 2:00 p.m. in the Mt. Carmel sanctuary.
Please keep his family in your prayers.
---
Lunch Bunch: July 23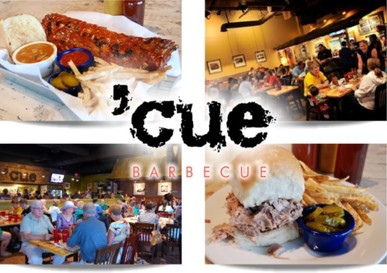 Everyone is invited to join the Lunch Bunch after church on Sunday.
This week we'll meet at 'Cue Barbecue at about 12:15.
Directions:
Left out of the church /
left at the light at Medlock Bridge /
left onto Peachtree Industrial Blvd. /
right into Cue BBQ between Comfort Inn and Meineke
Hope you can come! See Wynne Buran with any questions.
---
NCM Needs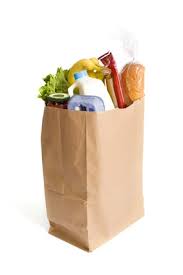 Norcross Cooperative Ministry has updated their list of items needed this week.
Items needed are: saltine crackers, canned soup, & cereal.
Donations may be left at Mt. Carmel in the NCM bin near the handicap entrance. Of course monetary donations are always appreciated too. Just make your check payable to Mt. Carmel, mark it for NCM, and drop it into the offering plate. Thank you!
---
Monday Night Study Plans: July 24
The Monday Night Study group will meet at Dawn Seigler's temporary abode on July 24 from 7:15 until 8:30 to discuss more about King David (2nd Samuel).
She is at Ivy Hall Assisted Living
5690 State Bridge Rd.
Johns Creek, GA 30022
(Just behind the Regal Cinema at Medlock Bridge and Pleasant Hill - in a room just off the lobby)
Hope lots of you can join us!
---
Youth News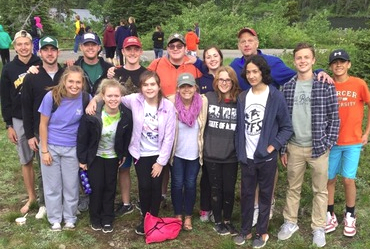 Photo from Mission Trip to Montana!
The regular Youth Dinner and Program happens on Sunday evenings, beginning with dinner at 5:15 in the downstairs youth hall, followed by programming, fun and worship until 7:20.
For more information, see the Youth Newsletter
HERE
, or contact Youth Director
Emily Thompson
.
---
Thank You Very Much!
Thank you so much for the food and company! We had plenty for several meals and it is very much appreciated.
Mt. Carmel is the best! Thank you June and Chris for delivering the meals to us at the most crucial time.
Love,
Michael & Sherry Blackwood
---
Outreach Opportunity - Sign up NOW!
Family Promise Host Week #2 is Sunday,
August 6th - August 13th.
If you have never helped with Family Promise before, here's your chance to give it a try. If you've helped in the past, you are welcome to help again! There are plenty of slots to go around.
Click
HERE
to see the current schedule.
Contact
Julie Jones
with questions or to sign up for a slot (or two). She will add you to the on-line schedule.
Featured volunteer slot: MEAL PROVIDER
Meal providers buy food & prepare a meal. Details about the exact numbers of guests and food allergies/restrictions will be provided just before our Host week.
Meal-time is tentatively set for 6 pm, but is dependent on guest schedules. You can arrange to drop the food off in advance -- just provide instructions so the dinner hosts know how to heat up the meal.
If you can provide the meal AND be the Dinner Host for that same meal, that is a huge help and gives you a chance to meet the Family Promise guests.
Meat and sides are typically preferred to casseroles. That type of menu also makes it easier for 2 or more people to share in the cost and work of providing the meal. Drinks and condiments are covered and dessert is optional (but appreciated). It's great to have leftovers for the families to use for lunches.
In addition to dinner on Sunday - Saturday, we also need Meal Providers for a hot breakfast on Saturday morning and in June, we had box lunches donated that were very popular with the guests. Grab and go convenience is really helpful for these families that often have lots of time on the road getting to work, daycare, YMCA/ Day Center (for showers) from the host churches.
---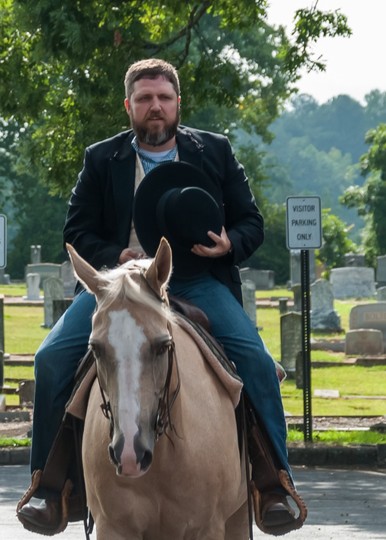 Homecoming / Heritage Sunday
Mark your calendar for Homecoming/Heritage Sunday on August 20 at 10:30 am.
We'll journey back in time as we listen to "Voices From The Past" and meet church members from the 1800's to the 20th century sharing tales about Mt. Carmel's history.
(Then join us after the service for a covered dish dinner, bring a covered dish to share, etc.)
---
Kid's Corner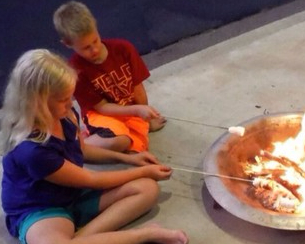 Don't forget our second annual "Camping in the Church" event
is scheduled for Saturday night, July 22 at 6 pm. Its OK to arrive as early as 5 to set up tents.
We will have supper (quesadillas, salad and dessert) followed by a movie with popcorn. At dark we will roast marshmallows and make s'mores.
Please come and enjoy the movie and dinner even if you aren't camping. Youth are invited to join us too.
Also remember our upcoming August Events!
Blessing of the Backpacks on August 6th during worship, followed by our Water Fun Day (with water slide) on August 13!
Cheers!
Leslie
---
Sunday School Teachers Needed
Our Children's Department is looking for additional Sunday School teachers for the fall, winter, and spring terms!
We need a commitment of one class a month with either the
pre-K through 2nd grade class, or the 3rd to 5th graders.
Please email or call Leslie if you can help! Thanks!
404-664-2574
---
Women's Book Club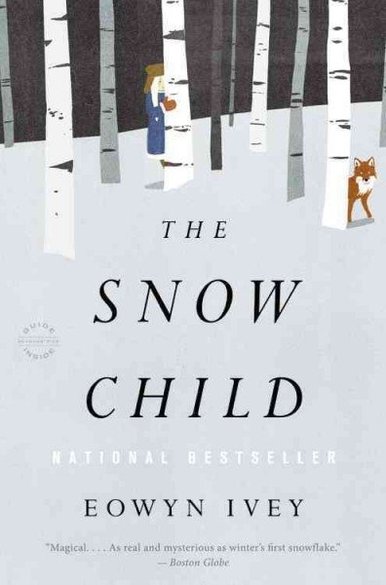 The next meeting of the Mt. Carmel Women's Book Club will be on Friday, August 4th. We'll meet at 7:00 p.m. in the Hope House.
This month's book is The Snow Child, by Eowyn Ivey.
See Chris Bolton or Vicki Walden with any questions.
---
Preschool Consignment Sale in the Fall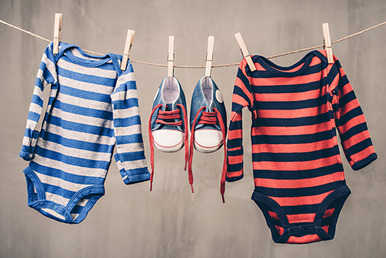 The Mt. Carmel Preschool will participate in a consignment sale this September and they need our help!
The sale will be at Christ the King Lutheran Church in Peachtree Corners and will include children's items as well as household things.
If you are cleaning out closets before we head back to school and have children's fall/winter clothing, shoes, sports equipment or toys, or any household items you are getting rid of, we would love to take it off of your hands!
All proceeds benefit the Preschool. Last March we made almost $1,000 at the consignment sale and we are hoping to do the same in September!
Just bring your donated items into the church office any weekday this summer and we will take it from there. I can also provide you with a receipt for your taxes next year.
Thank you!
---
Prayers and Concerns
Please join with others in our church family in praying our concerns and thanksgivings this week:
Prayers and Concerns
Family of Bill Chappell who died on Monday
Dan & Anne Bailey & family: death of Dan's mother
Jerry McDonald: broken arm / finger /surgery to repair
Dawn Seigler: still in rehab from broken leg
Carol Bryant's young friend: head injury from skateboard accident
Cynthia Currence: for daughters to draw closer to God
Karen Martin: chemo treatments
Jo Minor's brother Lee: traumatic brain injury from motorcycle accident
Joy Pakalapati's friend Marnette: for good health
Thanksgivings
Lane Shutt: cancer-free
Birthdays of: Spencer Grogin's grandma (99!), Andrew Bond (17), Henry Bolton (6), Marianne Thompson (?)
Rev. Michael & Karen's son Ryan visiting from Denver - both sons in church on Sunday
Linnea & Tom Porter expecting a baby in January / Pekka & Lorrie Ignatius on becoming grandparents!
---
Ways to Make a Donation Electronically
Thank you for your support of Mt. Carmel!
There are many ways to give: You may use a Debit Card, Credit Card, or PayPal, o
r you may make
an automatic electronic funds transfer on a
one-time or recurring basis.
Click
HERE
to give electronically.
Every week:
Prayers
Worship this week
Birthdays and Anniversaries
Save the Date
Counseling Center
Norcross Cooperative
---
Sunday's Lessons
Psalm 13
Psalm 42
---
Birthdays this week:
Henry Bolton
Ernie Richmond
Jason Campbell
Jeanne Cameron
Christine Werdebaugh
Anniversaries
this week:
Spencer & Lisa Grogin
Charles & Cecilia Carroll
---
Save the Date
9:30 MUSICIANS PRACTICE
JULY 19 - 7:00 PM
SANCTUARY
(NO CHOIR PRACTICE IN JULY / 9:30 PRACTICE MOVED TO 7:00 EACH WEEK IN JULY)
TRIP TO GWINNETT BRAVES
JULY 20
GAME TIME - 7:05 PM
COOL RAY STADIUM
KIDS CAMP-OUT AT CHURCH
SAT. - SUN. / JULY 22 - 23
6:00 PM - FELLOWSHIP HALL
WORSHIP SERVICES
JULY 23 - 9:30 & 11:00 AM
SANCTUARY
MEMORIAL SERVICE FOR BILL CHAPPELL
JULY 23 - 2:00 PM
SANCTUARY
MONDAY NIGHT STUDY
JULY 24 - 7:15 PM
IVY HALL ASSISTED LIVING
(SEE ARTICLE)
YOUTH TO STONE MOUNTAIN
JULY 29 - 4:00 PM
MEET AT CHURCH
WOMEN'S BOOK CLUB
AUGUST 4 - 7:00 PM
HOPE HOUSE
STEWARDSHIP MEETING
AUGUST 5 - 2:00 PM
CURRENCE HOME
BLESSING OF THE BACKPACKS
AUGUST 6 - 9:30 & 11:00 AM
SANCTUARY
KID'S WATER FUN DAY
AUGUST 6 - MT. CARMEL
YOUTH TO WATER PARK
AUGUST 6
HOST FAMILY PROMISE
AUGUST 6 - 13
FINANCE MTG
AUGUST 13 - 6:30 PM
HOPE HOUSE
ADMINISTRATIVE BRD. MTG.
AUGUST 13 - 7:30 PM
ROOM 112/114
C.O.M. PLANNING RETREAT
AUGUST 19 - 10:00 AM
ROOM 112/114
HOMECOMING / HERITAGE SUNDAY
AUGUST 20 - 10:30 AM /
POTLUCK LUNCH
12:00 PM
FIRST DAY OF PRESCHOOL
AUGUST 28 - 9:30 AM
---
Norcross
Cooperative
Ministry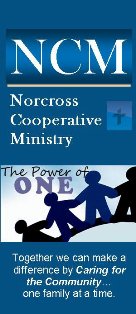 As one of the founding churches of NCM, we encourage your support assisting those in need in our area.
Donations of non-perishable food may be left in the NCM tub in the church foyer, and checks made to the church and marked for NCM may be dropped into the offering plate or by the church office.
---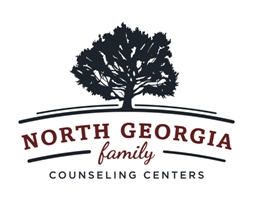 Family Wellness
through Counseling,
Education and Research
Mt. Carmel proudly supports the North Georgia Family Counseling Center.
5100 S. Old Peachtree Rd.
---
Share your story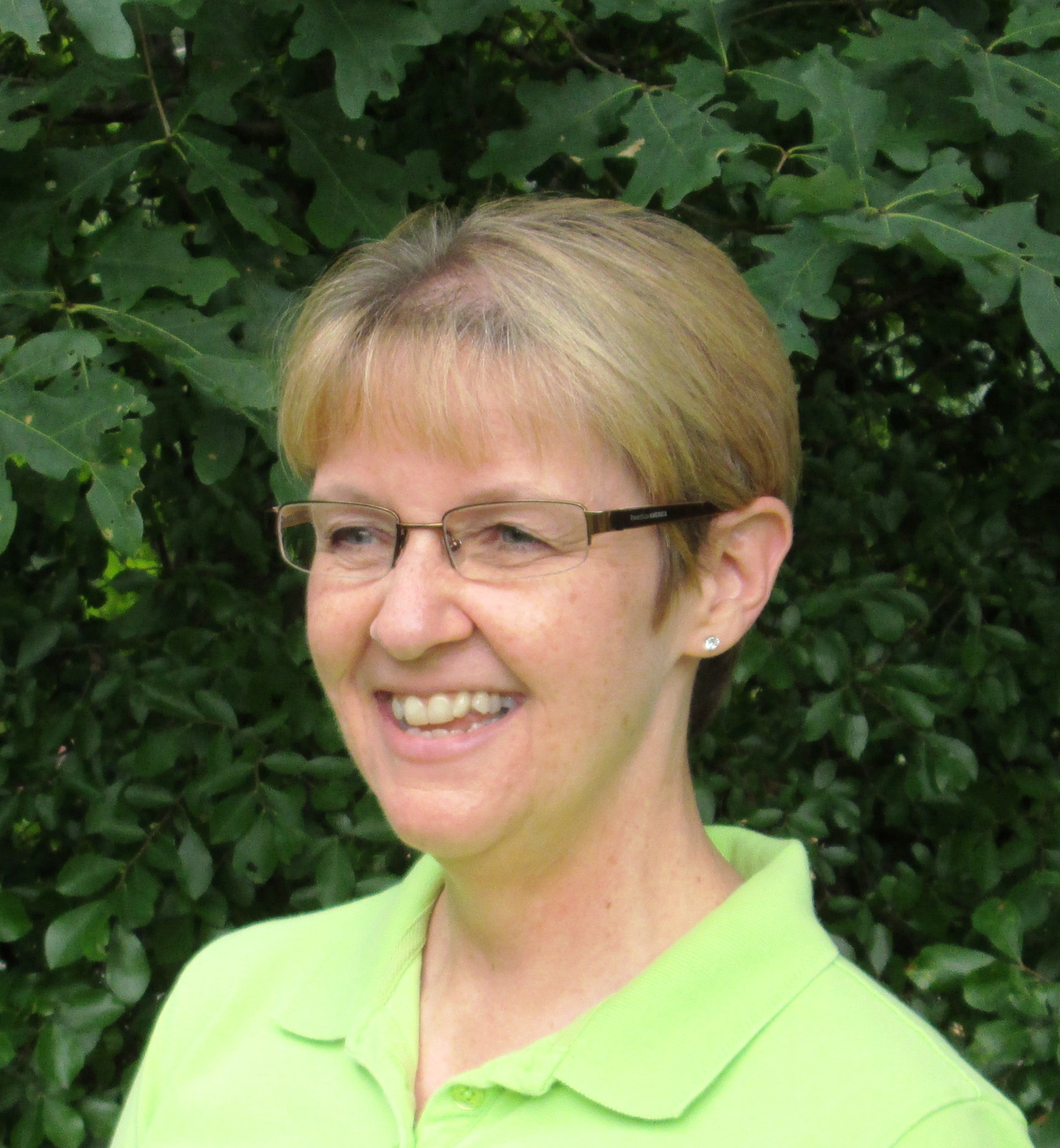 Do you have an article to include in next week's bulletin or newsletter?
Email these to
Suzanne Foster
or call the church office.