In the Newsletter this Week:
From Pastor Cyndi
Security Reminder
Catacombs Coffeehouse - Desserts Needed: June 3

Kid's Corner: VBS - June 6 - 10

Children's Sunday: June 12 - 10:30
Youth Mission Trip Commissioning: June 12 - 10:30
Lunch by Youth: June 12 - 11:30

Apply for Leadership UMC

Annual Conference Offering

Women's Book Club: June 3

Father's Day Carnations

Art Date: June 10
MUST Lunch Preparation: June 20 - 24
Family Promise: July 3 - 10
Thank You

Prayers / Thanksgivings

Ways to Make a Donation
---
Worship at Kiko's
What are you doing on Monday nights this summer?
I'm looking forward to being part of worship at Kiko's Mexican restuarant.
Starting June 13, I'll be there on Mondays around 6:15 or 6:30 to order dinner, and then start a worship service at 7 pm. My hope is that when you are traveling or unable to attend Sunday morning worship, you will join me for a family-friendly service.
Several names have been suggested for these services: Church in a Cantina, Sermons and Salsa, Sundays on Mondays, Church and Chips, Nachos and Not Yo Usual Worship.
Whatever the name, there will be music, scripture, an offering, and a message for all ages.
If this worship service were only about us, and a convenient time for us to gather after vacation weekends, then It would be a lot more convenient to have these services in our sanctuary. Kiko's doesn't have song sheets or a piano, microphones, stained glass windows or an organ.
Why would we ever go anywhere else when we have such a beautiful sanctuary?
There is one thing our sanctuary does not have: the kind of people who are reluctant to go inside a church. There are people who don't know whether they are welcome. Some aren't sure they have the right clothes or right beliefs. Some have never been invited.
Having a worship service at Kiko's makes a statement that anyone is welcome.
My hope is that it would give our neighbors a taste of what the Mount Carmel people are like, and encourage them in joining us in trusting Jesus and lives that reflect a love of God and neighbor.
The gospels describe Jesus going out to meet people where they lived and worked. He didn't wait for them to come to him, but went to them.
Mark 2 tells us that the religious folks gossiped about Jesus because he went out and ate with tax collectors and sinners. I don't know if there will be any tax collectors at Kiko's. But since I'll be there, I know there will be at least one sinner who needs a weekly time of worship—me!
I'll see you on Sunday, and later this month, on Mondays,too.
---
Security Reminder
Last Friday night, during an Eagle Scout Award Ceremony at Mt. Carmel, a car was broken into and a laptop stolen. This happened while the parking lot was full of cars and people were busy in the sanctuary and Fellowship Hall, yet this person was able to break in and get away without anyone noticing.
Please remember not to leave anything that looks valuable in your car where it could encourage a break in.
It's hard to think about anything criminal happening at Mt. Carmel, but sadly it happens everywhere so please aware and stay safe!
---
Coffeehouse Desserts Needed!
We hope lots of you are looking forward to the Catacombs Outdoor Coffeehouse on Friday in the back parking lot!
Even though we'll be outside, we will still serve beverages and desserts, so if you can supply a dessert, please contact Laraine Downey or Jacque Tapley ASAP. Thank you!
---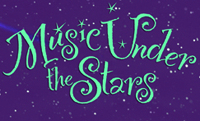 Coffeehouse Under the Stars!
On Friday, June 3rd the Coffeehouse welcomes "Burning Sensations" to play OUTSIDE in the back parking lot!
Weather permitting, we will set up the tables and chairs outside and enjoy some music, coffee and yummy homemade baked goods "under the stars."
Seating begins at 6:30 PM and the music will go from 7:00 to approximately 9:30. Please mark your calendars and join us for a fun evening with The Burning Sensations!
The Burning Sensations
If you want to enjoy some classic rock, but would like to hear songs that you don't hear most bands playing, then The Burning Sensations are for you.
A collection of musicians from five other bands, The Burning Sensations (a name chosen by their fans, by the way) started as a quirky, under-the-radar act performing from time to time in the Atlanta area. Word started to spread, and soon their performances (punctuated by odd stories and some audience participation) were filled to capacity. They realized that the audience had the most fun when the musicians were allowed to have fun, too.
Bob, Jim, John, Michael, and Pete don't play together that often (they're pretty busy with their "regular" bands), but when they do, it's something to see.
---
Children's Corner
VBS is HERE!
June 6-10 / 9:30 am - 12:30 pm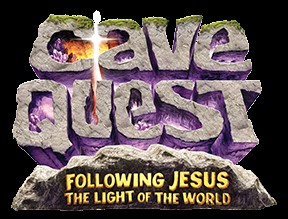 We will be decorating Saturday & Sunday ALL DAY! Would love to have all hands on deck!
Please email or call if you can help with set up.
Attention VBS Youth Helpers!!
There will be a Final VBS meeting for Youth Helpers THIS Sunday at 4:30 p.m. Please try to make it so that we can make sure everyone knows the plan for Monday morning!
Summer Sunday School
May 29th through August 7th
This summer, our Sunday school theme will be 'A Summer of Service'
Come join us THIS Sunday, June 4th, as we remember and celebrate our veterans service to our country. Our first service project of the summer will be placing flags on the graves of veterans who are buried in our church cemetery. We will also be decorating cards that will be mailed to soldiers who are currently stationed in Afghanistan and Iraq.
We will be making bird feeders for the kid's parents and the older members of our congregation, and continuing making knotted fleece blankets for Children's Healthcare of Atlanta.
Looking for a few folks to help each Sunday while our teachers are on summer break. Please get in touch if you would like to help.
---
Children's Sunday on June 12 - 10:30 AM
On June 12th there will be ONE worship service only and our VBS Children will lead it!
Come and hear the songs and see the video of all of the fun that was had during Vacation Bible School!
---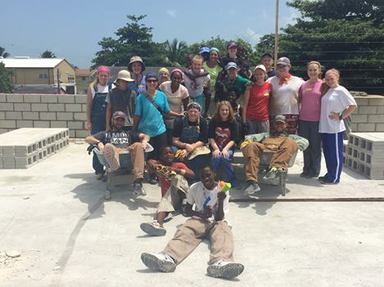 Youth Mission Trip Commissioning:
June 12 - 10:30 AM
During the worship service at 10:30 on June 12 the Youth Mission Trip team will be commissioned.
They will leave on June 19 for McDowell County, West Virginia. Thank you for your support of the youth; please keep them in your prayers.
---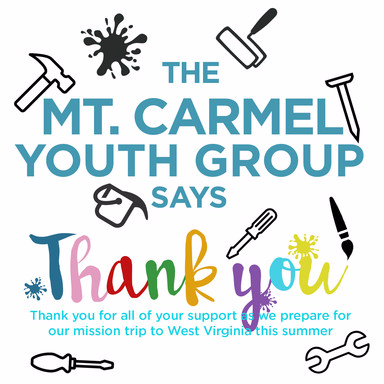 Thank You Lunch by Youth:
June 12 - 11:30 AM
Following the Children's Sunday worship, the Mt. Carmel Youth will provide lunch as a Thank You for the congregation's ongoing support.
Plan to stay and enjoy lunch with our Youth and congregation!
---
Apply for Leadership UMC
Leadership UMC equips emerging church leaders for service in mission and ministry within the local church, district and conference. Are you interested in growing as a servant leader and helping Mount Carmel make disciples of Jesus Christ for the transformation of the world?
Participants commit to four workshops, Friday evening and Saturday day, November 18-19, January 13-14, March 10-11 and April 29-30 faciliated by the North Georgia Conference. The number of participants is restricted, and applications with pastor recommendation are due September 14.
---
Mt. Carmel Women's Book Club

The next meeting of the Women's Book Club will be on Friday, June 3rd at 7:00 p.m. AT SUSAN POSEY'S HOME.
Light refreshments will be served as the group discusses this month's book, The Rosie Project by Graeme Simsion.
---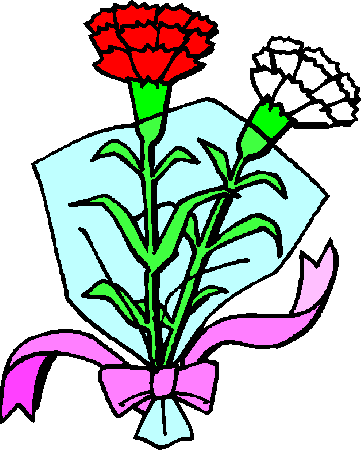 Father's Day Carnations
On Father's Day, June 19th, carnations will be placed on the altar in honor or in memory of our fathers, and those who have been like fathers to us.
If you would like to purchase a carnation, please fill out the form in the Sunday bulletin and return it to the church office or call the office by Thursday, June 16th.
Cost: $12.00 which includes vase, carnation (white in memory of / red in honor of) with greenery and baby's breath.
Please make your check payable to Mt. Carmel UMC marked "Carnation".
All proceeds will go toward the Youth Summer Mission Trip to McDowell County, West Virginia. Thank you!
---
Art Date in June
Reception and Awards Presentation
Friday, June 10, from 7:00 pm - 9:00 pm
Kudzu Art Zone - Gallery & Art Center
116 Carlyle St., Norcross, GA
Please join us as we attend the opening of Kudzu Art Zone's Open Juried Exhibition. This is the fourth year for this event and has proven to be record breaking in the number of artists participating and artwork submissions received.
There will be so many wonderful works of art on display, you don't want to miss this event!
---
MUST Ministries Summer Lunch Program
June 20 - 24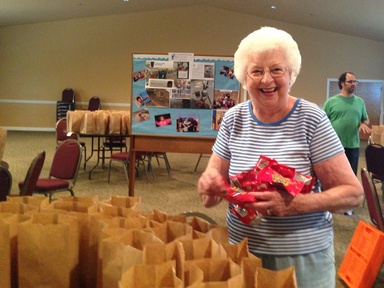 Once again we will be participating in the MUST Summer Lunch Program providing lunches to children who usually receive lunch at school. This means making 200 sandwiches a day and filling 1000 lunch bags for the week! It's a big undertaking, but we can do it with your help!
Volunteers will be needed after the 9:30 and 11:00 worship services on Sunday, June 19 (lunch will be provided) to help fill lunch bags with juice boxes, something salty and something sweet. We'll pack as many as we can at that time, adding the fresh sandwiches each day.
We'll also need volunteers to make sandwiches Monday thru Friday and add them to the bags so they can be delivered by 11:00 to the church that will be taking them to the local apartment complexes. We'll need to be at the Fellowship Hall by about 9:00 or 9:30 a.m. each morning.
Donations of juice boxes, snack-sized bags of chips, pretzels and cookies or granola bars, peanut butter crackers, etc. will be needed to help fill the 1000 bags. We'll also need peanut butter, jelly, bologna, cheese and bread the week of June 15.
Please check the Connect Cards in Sunday bulletins or contact the church office for the list, check what you can provide, and then leave these items in the church kitchen marked for MUST by June 15.
If you can volunteer on Sunday the 19th or any morning that week, please call Joanne Ragon (770-271-7350) or the church office. Your help is appreciated!
---
Family Promise: July 3 - 10
Happy summer to all!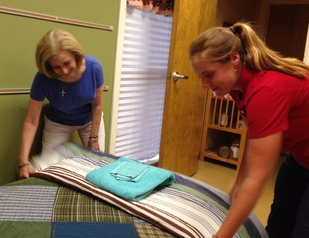 This summer we will once again be a host church in the Gwinnett County Family Promise Program. We will host pre-screened homeless families in our church for a week, providing them with housing, food, fellowship, and most importantly, love.
LOTS of volunteers are needed for the week, including dinner and overnight hosts, van drivers, meal providers, set up and tear down helpers, and laundry angels.
Save the date, and sign up this Sunday to serve our neighbors in need.
It is truly a blessing to serve in this amazing ministry, seeing the Sunday school classrooms transformed into safe, cozy, inviting spaces for families in crisis, getting to know the guests and just being able to love them, providing needed food. Every act of love and service is a dot that connects our guests to independence.
I look forward to serving alongside you! If you have any questions, please message lila.hunter@gmail.com or lorrie.ignatius@gmail.com.
If you are new to Family Promise, Family Promise training and Safe Sanctuary training will be arranged for you.
In His Love,
Lila Hunter
---
Thank You Very Much
The Hinson family would like to thank our Mt Carmel family for all of the thoughts, prayers, cards, emails, texts, and helping hands during what has been a most difficult May.
We consider the people of Mt Carmel to be our extended family. You guys were there when we needed you and we thank you for that.
We are looking forward to a much calmer, less stressful June!
Thank you,
Kevin, Kelly, Mariah, Raven and Tarin
---
Prayers and Concerns
Please join with others in our church family in praying our concerns and thanksgivings this week:
Prayers
Gunther Trentini's father Orlando, in Brazil, who had a stroke last Friday and now has pneumonia also.
Friends of the Tapley's who lost their 21 yr. old son
The Ragon's friend Carol - surgery last week
Morgan Nichelson: surgery on June 3
The Easley's friend Brian: lost his 11 yr. old nephew in accident
For all those with depression
For those in the military
For peace
Good weather for the Coffeehouse June 3
Thanksgivings
The Ragon's 52nd wedding anniversary
The Easley's 47th wedding anniversary
Sherry Blackwood: for great time spent with children & grandchildren
Susan Posey's family with 5 nieces & nephews graduating from college and grad school
David Posey's 30th birthday on May 30
---
Ways to Make a Donation Electronically
Thank you for your support of Mt. Carmel!
There are many ways to give: You may use a Debit Card, Credit Card, or PayPal, o
r you may make
an automatic electronic funds transfer on a
one-time or recurring basis.
Click
HERE
to give electronically.