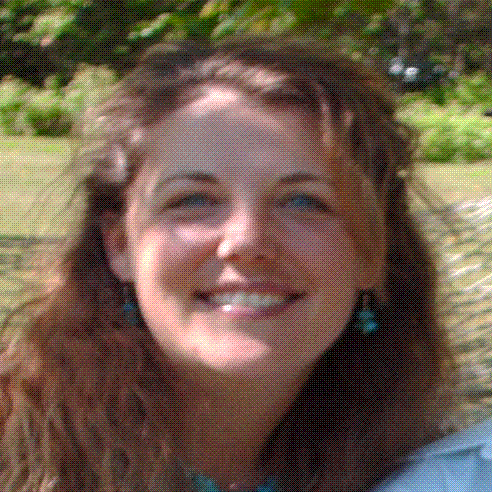 Unity Barn Raisers' executive director, Tess Fairbanks Woods, is thrilled to announce that UBR has been awarded an $11,000 grant from the John T. Gorman Foundation of Portland to support the organization's efforts to build strong, collaborative, multi-organizational relationships in the quest for local food security and equity. On a sadder note, Woods also recently announced that she will soon be departing from UBR, due to her impending move to New Hampshire.
"One thing UBR does is bring together local people and organizations to build community– regardless of age, special interests, political affiliations, economic standing or any other possible divisive force. Since so much of that happens around food, our motto could be, 'If you grill it, they will come!'," joked Tess Fairbanks Woods as she announced the gift. "Food and local food production is critical to communities for a wide variety of reasons: individual and collective health and well-being, our local economies, and wise land and resource stewardship. We use our gatherings as opportunities to promote local farms and healthy nutrition, as well as to improve access to local, fresh foods for everyone. This grant allows us to take another huge step forward for our community by giving us the means to help two other organizations improve access for their clients to local, fresh, healthy foods. We are extremely excited that this gift will allow us to distribute $3,000 each to the Volunteer Regional Food Pantry and The Open Door Community Table for the creation of a local food purchasing fund."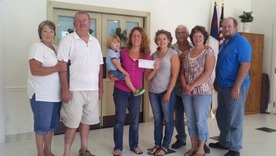 In photo: Tess and her son presenting local food fund check to representatives from the VRFP and TOD.
Although the Barn Raisers already have Veggies For All, a successful project growing food for distribution through the local food pantry, and many other local farmers and growers generously share their bounty with local hunger relief and food security efforts, Woods explains that these new funds will help both organizations be able to strategically supplement these donations with complimentary or gap items to even further improve the health and well being of the local community.
"I am so thrilled to be able to announce receipt of this amazing gift from John T. Gorman as I head to the next chapter of my life. My experience working for Unity Barn Raisers has been life changing and immensely rewarding. Our organization and our community is on such a great path, with a history of amazing accomplishments behind us and so many, many more to come. I am eagerly anticipating what is to come next for the Barn Raisers and its community!"
Woods, an 11-year employee, will be leaving the Unity Barn Raisers community to join the White Mountain School community in Bethlehem, New Hampshire where her partner has been hired as Director of Advancement and her daughter will be attending high school.
"This grant is just the latest in a long list of Tess's accomplishments," said Dave Smith, current Board Chair and long-time community member. "Tess leaves us with some very big shoes to fill. She has guided us through rough times and great times. We on the Board of Directors sometimes refer to her (with utmost respect) as a "dog with a bone". When she sets herself on a task, she does so with a determination to see the job through. She doesn't give up. Her passion and optimism have inspired us all, and she has been instrumental in building partnerships that further advance our mission while supporting and promoting the great work of so many other organizations and businesses in our area. It is so fitting that she secured this gift for the community in her last week here, and it is a fitting tribute to her efforts and commitment. Unity Barn Raisers is currently undergoing a strategic planning process and we will be reviewing our staffing needs and plans as part of that process. We anticipate advertising for a new ED within the next 6-8 weeks. And, as Tess reminds us in her ever-optimistic way, a new Executive Director will bring new energy and skills and further strengthen our organization and our community. I can't thank Tess enough for the hard work she has put into this organization, and I'll miss working with her. We all wish her the very best."
During Woods' time at Unity Barn Raisers, the organization has been honored with the following awards:
2002 Waldo County Soil and Water Conservation Partner Award

2003 Maine Community Foundation Elizabeth Noyce Award for Non-Profit Excellence

2007 Harry Chapin Self Reliance Award

2008 Belfast Area Chamber of Commerce Non-Profit of the Year Award

2009 Unity College Civic Engagement Citation
Most recently, Woods was the recipient of the 2011 Maine Rural Partners Partner of the Year Individual Merit Award. Woods and Unity Barn Raisers were also recognized in the Harvard Pilgrim Health Care Foundation's Dishing Out Healthy School Meals report in 2010 as driving forces in the local school district's push for adding fresh, local foods to its menu. Woods was recently recognized and thanked for her years of service at a Community Meal featuring, you guessed it, fabulous locally grown foods!