STATE NEWS
1. CALIFORNIA - Wildfires Cause Sonoma Developmental Center Relocations

The residents of the Sonoma Developmental Center have been relocated twice, first to the Sonoma Valley High School, but are now being moved to another facility due to their medical fragility and the current air quality conditions.

The article below was written by VOR's Kathleen Miller. The article was published last week, before the fires started. Kathleen is a resident of Santa Rosa. Her son Dan resides at the Sonoma Developmental Center. I spoke with Kathleen earlier today, and she and Dan are all right, though understandably stressed by everything around them.

1A. Close to Home: Some Sonoma Developmental Center Residents are Losing Their Safety Net
By Kathleen Miller, The Press Democrat, October 8, 2017 KATHLEEN MILLER IS PRESIDENT OF THE PARENT HOSPITAL ASSOCIATION AT THE SONOMA DEVELOPMENTAL CENTER
My son is a resident of the Sonoma Developmental Center. The center is closing as the residents are "integrated" into community homes. While a number of the center's residents will be able to blend into community settings, in part because many are so medically compromised they are unable to be a real focus of neighborhoods, my son isn't like that. He is active and strong. He is also mentally ill, and at times his mental illness can take over.
Private community providers are able to eject those who cause problems or are difficult to manage from community home settings. In the past, the developmental centers have taken in those who were not successful in community homes.
When my son's mental illness escalated, and he was ejected from private community settings, the centers were a safe haven for him and others like him. Unfortunately, the state has blown a hole in the safety net for folks like my son.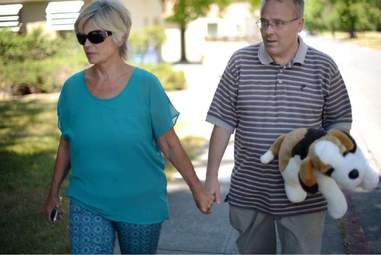 Currently, in addition to the risks of losing the safety net of the Sonoma Developmental Center to fall back on, Santa Rosa neighborhoods have been organizing to protest the placement of community homes for center residents in their neighborhoods. Their discomfort further increases the chances of developmental center residents' failure in community settings. For those not able to make it in private community settings, the alternatives are few and increasingly restrictive. Jail, acute psychiatric settings, which are not geared for the developmentally disabled, and emergency rooms will be the fall back.
=============================
2. TEXAS - Texas Health and Human Services Releases FAQ'a about I/DD Services and Supports in the Aftermath of Hurricane Harvey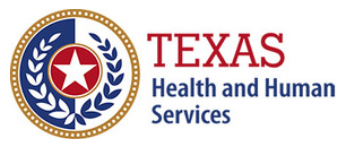 On Aug. 25, 2017, Hurricane Harvey hit the Texas coast and caused significant damage and flooding in numerous counties forcing many to evacuate to temporary or subsequently permanent locations.
Texas Health and Human Services (HHS) is committed to sharing pertinent Hurricane Harvey information with you with this list of frequently asked questions (PDF). This document will provide tools and resources needed to ensure the provision of services and supports to residents in Texas in the aftermath of this natural disaster.
=============================
3. GEORGIA - Georgia Continues to See Developmentally Disabled Patients Die Under State Care
By Tom Corwin, The Augusta Chronicle, October 11, 2017
The state of Georgia continues to have developmentally disabled patients die while under state care, with 160 deaths in the past fiscal year, according to a court-appointed observer.
The state often overlooks potential neglect or mistreatment uncovered by its own investigators, such as a woman who drowned in a bathtub this year, independent reviewer Elizabeth Jones said.
The U.S. Department of Justice sued Georgia over the conditions in its state hospitals, and the Georgia Department of Behavioral Health and Developmental Disabilities agreed to a settlement in 2010 that requires moving patients from state institutions to the most appropriate integrated setting, and to provide greater services and support for those patients in community settings. Jones is monitoring the state's compliance with those provisions and reporting to the U.S. District Court in Atlanta on the state's progress.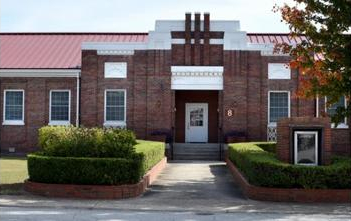 One of the buildings at East Central Regional Hospital Gracewood. There were 366 developmentally disabled patients in the hospital on June 30 waiting to be moved to community settings.
Site visits to current providers also found some are employing poorly trained and supervised staff. One patient, referred to only by the initials B.B., ended up hospitalized and recovering in a nursing home after she refused to eat and lost weight due to poor care in the home.
"The apparent indifference shown by the residential staff was equally disturbing," Jones noted. With another patient referred to as J.B., the nurse consultant found the patient apparently heavily drugged, noting the man "was slouched down in the chair with his head hanging down" and had a black eye the staff could not explain.
An Augusta Chronicle investigation in 2015 found nearly 1,000 deaths in two years among patients in the community under the state's care, and the state later agreed to a more robust system for investigating and reporting deaths. In fiscal year 2017, there were 160 deaths and 68 investigations, but "the findings and recommendations in certain investigations raise concerns about thoroughness, and, even more importantly, the legitimacy of the conclusions drawn from the investigation," Jones wrote.
=============================
FREE OFFER




Exceptional Parent Magazine
(EP)
is now available for free to digital subscribers!

Click here to subscribe:
New.EP-Magazine.com
=============================
4. SOUTH CAROLINA -

Last week, we featured several stories on South Carolina. Three days of meetings were held earlier this week, discussing issues and oversight of the state's agency for Developmental Disabilities and Special Needs. Below are two articles following up on those hearings, and a separate article covering problems in the IDEA program.

4A. DDSN Chair Asks Board to Focus on Cutting Waiting List and Abuse, Raising Worker Pay


4B. DDSN's Director Suggests Lawmakers Clarify Agency's Oversight Role
The director of the state's disabilities agency asked lawmakers Tuesday to clarify her agency's oversight role.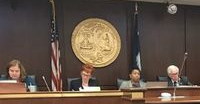 Beverly Buscemi, executive director of the state Department of Disabilities and Special Needs, made the request as she outlined the agency's financial and organizational structure in the third public hearing before a House legislative oversight subcommittee studying DDSN.
She said some people think the agency has direct authority over county disabilities agencies, which she said it doesn't, though it contracts with each of the agencies and has oversight responsibility.
"I think right now, depending on who you talk to and when you talk to them, everybody is not of one accord on what the roles and responsibilities of DDSN are," she said.
Buscemi said even the law on which the agency's responsibilities are based can be viewed differently depending on who's looking at it.

4C. Live5 Investigates: SC Special Needs Complaints and Violations
By Carter Coyle, Live5 News, October 9, 2017
South Carolina was labeled as "Needs Intervention" for IDEA Part C determinations for six years in a row, before being labeled as "Needs Assistance" in 2017, for special needs program implementation.

IDEA Part B determinations have been labeled as "Needs Assistance" for two or more consecutive years.
While 2017 determinations are not yet listed on this data section of the federal website, a South Carolina Department of Education spokesperson shared the 2017 determination letters, which can be found here:
https://www2.ed.gov/fund/data/report/idea/ideafactsheet-determinations-2017.pdf

Through Freedom of Information Act Requests from the state and federal departments of education, we took a closer look at IDEA complaints and violations in school districts across the Lowcountry.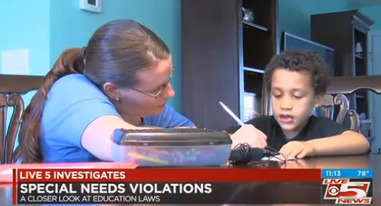 The U.S. Department of Education reports 6.6 million children get special needs services in schools across the country, which is about 13% of the total public school population.

All school kids with special needs should have an IEP, an Individualized Education Program. It's a detailed guideline for how teachers should work with the child. It details what therapies the child should receive, such as physical or occupational.
The Department of Education says IEPs should be reviewed in a meeting at least annually, or any time changes are needed.
Parents who are concerned their child's disability rights were violated can file a complaint with the state:
https://ed.sc.gov/districts-schools/special-education-services/parent-resources/dispute-resolution-information/state-complaint/
=============================
5. CONNECTICUT - Restraint Death in Bristol Group Home Ruled Homicide
By Josh Kovener, The Hartford Courant, October 13, 2017
Losing her son was a hard enough. Finding out that Joey King died while under restraint at his Bristol group home and that his death has been ruled a homicide was more than Lisa King could take.
Her resolve cracked Thursday as the grim picture of her son's last moments became clearer. He had Down syndrome. He was beloved, but he could become uncooperative and act out. On June 15, at dinner time, one or more staff members who work for the Vinfen Corp.'s group home at 35 Yale St. placed him in a restraint and took him to the floor of the kitchen.
Then they apparently left him, because he was found a short time later by another employee who had entered the home and saw King lying on the floor.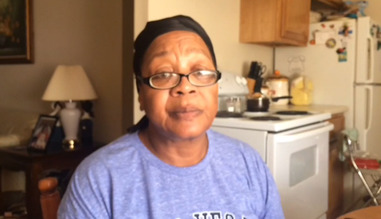 King said she has learned that CPR had not been attempted before the employee found him unresponsive and with no pulse.
"He was found face down," said King, her face dissolving into anguish. "I think he was squeezed to death."
A pathologist with the chief state medical examiner's office determined that the cause was "sudden death in the setting of physical restraint, in a patient with Down Syndrome and bicuspid aortic valve" — an inherited form of heart disease.
The manner of death, Dr. Dollett T. White ruled, was homicide.
=============================
6. NEW JERSEY - NJ Bolsters Safeguards for Developmentally Disabled

Following up on last week's story, Governor Chris Christie signed the Stephen Kominos Law into effect last Friday.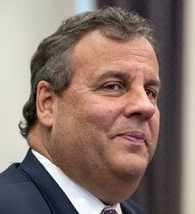 A measure signed into law by New Jersey Gov. Chris Christie strengthens protections for those with developmental disabilities.

The Stephen Komninos Law is named for a 22-year-old man who choked to death at a group home in 2007 when left unsupervised against medical orders.
The law requires more state oversight and consistent supervision of community-based residential programs, Christie said Friday.
"This new law will, we hope, prevent abuse, neglect, and exploitation of people with disabilities, establishing appropriately serious criminal penalties and mandating drug testing of each and every staff member," he said.
The law requires New Jersey's Department of Human Services to conduct two unannounced visits every year at group homes to evaluate whether patients are at risk for abuse.
The developmental centers also must notify parents within two hours if a patient is injured, and representatives must meet twice a year with parents.
=============================
NICE STORY OF THE WEEK

6. MASSACHUSETTS - Melmark Students Gather Supplies for Hurricane Victims
By Kelsey Bode, The Andover Townsman, October 12, 2017
Students from Melmark New England in Andover gathered donations for victims of Hurricane Irma over the last few weeks, specifically children on St. Thomas, U.S. Virgin Islands.

Working in connection with Gladys' Café in St. Thomas, Melmark students collected a wide range of materials, including hygiene supplies, clothing, shoes, socks, pencils, crayons, coloring books, activity books, notebooks, blankets, pillows, toys, fidget spinners, books, beads, hats, puzzles, and Lego kits.

According to Ellen Kallman, director of advancement at Melmark, it all started when it really hit home to students that children impacted by the hurricane no longer had the items they needed in their daily lives, especially children like those at Melmark, children on the autism spectrum. Once they realized children on the Virgin Islands no longer had things they need for day-to-day life, they wanted to do what they could to help.

"They have been studying weather and obviously they learned on about what happened on the Virgin Islands," Kallman said. "The islands have been decimated and children there cannot go to school. One student in particular, he really understood that these kids do not have those every day things that are needed. When he realized that kids like him don't have communication devices they need, like some communication devices someone in a special education program might need, that became his focus."
Established in 1998, Melmark New England serves children, adults and their families affected by Autism Spectrum Disorders, intellectual and developmental disabilities.
=============================


Volunteers Needed! Volunteers are needed for several committees and specific tasks. VOR relies on its members to perform many of its key responsibilities. Please join us, and help us to continue our mission.


Click Here to See How You Can Help
=============================
SHELTERED WORKSHOPS

8. Are Sheltered Workshops on Borrowed Time?

By Bruce SIWY, The Daily American, October 11, 2017
Cary Griffin knows the sheltered workshop model. For eight years he operated one in Colorado. "There's unlimited ways to make a living in the world, and we're not exploring very many of them," said Griffin, who's become critical of sheltered workshops.

"It's a factory model," he said of sheltered workshops, characterizing them as a product of a 19th-century mindset.
This model, however, continues to be used in Cambria County and across the commonwealth.
"Our people are working in real jobs here," said Tara Bosserman, director of operations for the Cambria County Association of the Blind and Handicapped, which operates sheltered workshops in Ebensburg and Johnstown. "We've had a pretty good fight in the last year to keep our workshops open."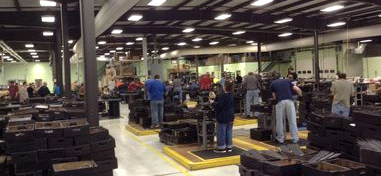 It was March 13 when Cambria County Association for the Blind and Handicapped employees and their relatives gathered in Harrisburg to protest changes to the sheltered workshop system.
Under a proposal from the state Department of Human Services, employees would be moved to a non-segregated community setting for 75 percent of their time with organizations such as the Cambria County Association for the Blind and Handicapped. This would result in a drastic reduction in the amount of time these employees spent in the factory.
According to Tara Bosserman, these changes were unfair.
So Richard Bosserman, her father and president of the organization, called a meeting. She said it was the first parent meeting he'd called in his 50 years with the association. And employees and parents responded with a letter-writing campaign followed up by the trip to the state capitol.
"We're in the business of employing people with disabilities," she said. "We have great employees and great families that support us."
"We've had to go to Harrisburg, we've had to go to D.C."
So the state backed off. The original proposal — mandating 75 percent of the time in the community — was replaced with a less comprehensive change.
"Providers are required to offer each person no less than 25 percent of the service time in community integrated activities, but can achieve up to 100 percent time in the community," wrote Ali Gantz, deputy digital director for the Pennsylvania Department of Human Services, in an email to Our Town. "Time in sheltered workshops and adult day programs is allowable.
"This approach allows change to take place one person at a time based on each person's preference."
She added that this approach was submitted to the federal Center for Medicare and Medicaid Services and approved for July 1.
The reversal, Tara Bosserman said, was a victory for the association, its employees and their families.
"Some of it was us being able to educate people in Harrisburg," she said.
She stressed that people with disabilities have a right to choose under the current regulations.
"By offering this new model, our individuals will receive opportunities for new experiences and interests, the potential to develop friendships away from our facility, and the ability to increase independence by community participation and inclusion," she said. "This will give our individuals opportunities to broaden their lifelong learning experiences and to develop basic skills and competencies necessary to pursue competitive integrated employment if they so choose to do so."