NATIONAL NEWS
2. HURRICANE RELIEF - The Administration for Community Living (ACL) has provided some resources for people who need assistance or services in the wake of the recent hurricanes.
For our Florida members, here is a list of contacts from the state Agency for Persons with Disabilities
http://apd.myflorida.com
VOR sends our thoughts and prayers to everyone affected by these natural disasters. We encourage our members to donate to disaster relief agencies to assist with the recovery efforts.

=============================
STATE NEWS
3. Pennsylvania - Five State Run Facilities for Disabled Adults Could Close if Bill Passes
By Stephen Huba, Trib-Live, September 12, 2017
Family members of the residents of Pennsylvania's five intermediate care facilities are mobilizing in opposition to a bill that could close the centers by 2023.

The relatives say they were alarmed to learn that the state plans to close the Hamburg State Center in Berks County in 2018 and that four other centers — homes for adults with serious mental and physical disabilities — could be next.

"It's a passionate thing for us, and it would be devastating for our families," said Jo Ann Lyon of Pittsburgh.

Lyon and her sister, Lynn Knesh of Greensburg, have written a letter to state Rep. Kerry Benninghoff, R-Bellefonte, expressing "shock" at legislation he authored — House Bill 1650 — that would close the state-run facilities.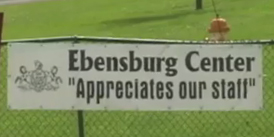 Their sister, Debbie, 64, who has been living at the Ebensburg State Center in Cambria County since she was 8, has "severe" mental handicaps, relies on a wheelchair and is blind.

"Without the Center, Debbie would most likely have not survived past her teens," the sisters wrote. "She is totally dependent on the care from the Center, which is why we know that our parents died knowing she was being well cared for."

The sisters are part of a grassroots effort to stop Benninghoff's bill from leaving the House Committee on Health, where it has been since July. A group known as Keeping Individuals with Intellectual Disabilities Safe , or KIIDS, has begun a social media campaign against HB 1650 and collected 6,000 signatures on a petition.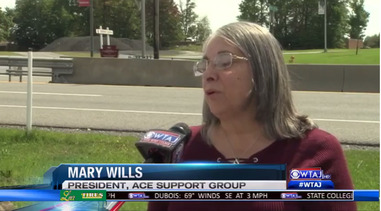 Members of KIIDS are making plans to deliver the petition and meet with Health Committee members to express their concerns later this month, said Mary Wills of Dysart, Cambria County.

"Once they say they're going to close a center, it's very hard to stop the action," said Wills, president of ACE, a support group for families of Ebensburg State Center residents.

ACE used to support residents' families in Altoona, Cresson and Ebensburg. The Cresson Center closed in 1982, the Altoona Center closed in 2006, and Wills fears the Ebensburg Center is next.
"They're picking us off one at a time, and now this bill wants to close the remaining centers," she said.

=============================
4. Maryland - Deputies, in Lawsuit Describe Fatal Confrontation with Man with Down Syndrome
By Theresa Vargas, The Washington Post, September 13, 2017
The lights in the movie theater hadn't yet dimmed when Frederick County Sheriff's Deputy Richard Rochford walked in and saw Robert Ethan Saylor, a 26-year-old man with Down syndrome, sitting in his seat, looking straight ahead.
He was not disturbing anyone, Rochford acknowledged in a deposition that captures his account of that night.
A theater manager had told Rochford, who was working part-time as a security guard, that Saylor, of New Market, Md., had already seen the movie and hadn't bought a ticket for a second showing. Rochford said he decided to "try to reason" with Saylor to leave, but Saylor ignored him and cursed at him.
Rochford then threatened to arrest him.
" 'Look, you know it's time to go. If you refuse to leave, you can be, you know, arrested and charged with trespassing, you can be banned from the property,' " Rochford recalled saying in the deposition, which was filed as part of a lawsuit. "I'm explaining to him the ramifications for not leaving. Again, you know, he said, at some point in time, '[Y]ou can leave now, I'm done, you know, I'm done talking to you.' "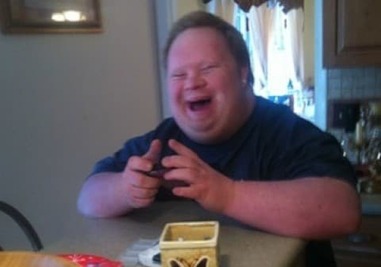 Rochford's statements, along with those of two other off-duty deputies who forced Saylor from the theater that night, provide insight into the moments that led up to his death in January 2013. The incident prompted a public outcry and changed how Maryland trains law enforcement officers.
The accounts from the deputies, who have not discussed the incident publicly, speak to what's at stake as the U.S. Court of Appeals for the 4th Circuit, in Richmond, considers whether the three men deserve qualified immunity, which protects officers from civil liability if they haven't violated "clearly established" constitutional rights.
The court heard arguments Wednesday. A decision could take months.
=============================
5. Tennessee - Judge Dismisses Lawsuit over Treatment of Disabled at Greene Valley, Clover Bottom
Associated Press via WJHL News, September 8, 2017
A judge has dismissed a long-standing lawsuit over Tennessee's treatment of people with intellectual and developmental disabilities, ending federal oversight of state programs.
\Gov. Bill Haslam on Friday lauded U.S. District Judge Waverly Crenshaw's dismissal of the case filed in 1995. Haslam said Tennessee has "fundamentally changed the way we serve some of our most vulnerable citizens."
The lawsuit filed by People First of Tennessee concerned conditions at three state developmental centers: Clover Bottom Developmental Center in Nashville; Greene Valley Developmental Center in Greeneville; and Nat T. Winston Developmental Center in Bolivar. A separate lawsuit concerning the Arlington Developmental Center was dismissed in 2013.
All four developmental centers have since been closed, with the state directing thousands of people with intellectual and developmental disabilities to home and community-based care.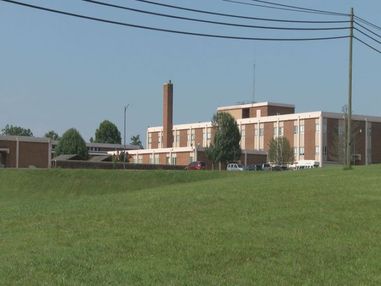 "We have fundamentally changed the way we serve some of our most vulnerable citizens in Tennessee," Haslam said. "I'm grateful for the tireless work of so many people to get to this point and ultimately improve the lives of thousands of Tennesseans with intellectual and developmental disabilities."
People First of Tennessee filed the lawsuit in 1995 and it was later consolidated with a case filed by the federal government concerning the conditions at three state developmental centers: Clover Bottom Developmental Center in Nashville; Greene Valley Developmental Center in Greeneville; and Nat T. Winston Developmental Center in Bolivar. The court partially dismissed the case in 2016.
The closure of Greene Valley Developmental Center was the remaining item to be completed and occurred in May 2017. A separate lawsuit concerning Arlington Developmental Center was dismissed in 2013. All four developmental centers have now closed and thousands of people with intellectual and developmental disabilities now receive home and community-based supports.
"By every measure possible, the transformation has been a remarkable success," said People First of Tennessee's attorney Judith Gran. "Tennessee has one of the best community services in the nation, providing services and support in a rich array of programs."
"The parties recognize that Tennessee is providing high quality supports in the community and no longer needs court oversight," Payne said.

=============================
6. Tennessee - Lawsuit: Longtime Orange Grove Patient Died of Hyperthermia, Dehydration -

State has investigated 210 allegations of abuse, neglect at the Orange Grove Center since 2012

By Zack Peterson, Times-Free Press, September 14, 2017
A longtime Orange Grove Center patient whose body was found in a transport van died from hyperthermia and dehydration, according to a recent lawsuit calling for $7.5 million from the facility.
Chattanooga authorities are nearly finished investigating the death of Carrie Lee Parkey Jr., a 60-year-old man whom Orange Grove staff located around 3 p.m. in the back of a van at a group home on Lillian Court.
Once they're finished, Hamilton County District Attorney General Neal Pinkston will review the evidence for "several weeks" to determine whether he wants to bring any criminal charges, his spokeswoman, Melydia Clewell, wrote in an email.
In the meantime, Parkey's sister, Edith, has teamed up with Cleveland attorneys Robert Thompson and James Logan, who filed a civil lawsuit last month claiming Orange Grove is responsible for the wrongful death of its "cognitively impaired and disabled" patient.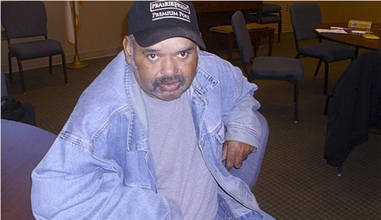 "The defendant failed to remove Mr. Parkey from the van or failed to prevent Mr. Parkey from re-entering the van," the lawsuit says, adding that Orange Grove instead marked the 60-year-old as "absent."
The lawsuit, filed in Hamilton County Circuit Court on Aug. 30, contains the information Parkey's legal team has been able to glean from the investigation so far, Thompson said.
"Edith Parkey filed the lawsuit in order to obtain further information and explanation as to what caused him to be left behind and die from hyperthermia in the van," Thompson said. "Often times the legal system provides the opportunity for people to get an explanation and also to prevent such further conduct that might injure others."
The suit does say Parkey died of hyperthermia, where a person's body temperature rises to higher levels than normal. The Hamilton County Medical Examiner's Office said Wednesday it cannot release the autopsy report. But the Times Free Press obtained a copy that confirms the manner of death: hyperthermia and exposure to high environmental temperatures. The cause is also marked "accidental" as opposed to suicide or homicide.
That report is just one piece Pinkston will have to consider.
=============================
7. Virginia - Letter: A Compassionate Plea to Keep the Southwest Virginia Training Center Open
By G. Randall Smith, Bristol Herald Courier, September 14, 2017
The families of the residents at Southwest Virginia Training Center are asking to keep it open. Our loved ones are well cared for there and are safe. The staff is thoroughly trained and intimately familiar with the needs of our I/DD family members.
SWVTC is a state-run intermediate care facility. There are only two privately run community ICFs in Southwest Virginia, and all of their 20 beds are occupied. The Virginia Department of Behavioral Health and Developmental Services has refused to open any additional community ICFs in this region. Those I/DD people who remain at SWVTC need the care and safety offered by an ICF.
The majority of the well over 400 beds at community ICFs are located in Eastern Virginia, which would be as much as a 10-hour drive for many Southwest Virginia families. So placing our loved ones in one of those homes would not be feasible.
At SWVTC, our I/DD family members are assured they would not be evicted, if their medical or behavior needs were to escalate. In a community ICF, they could be evicted with no place to go.
=============================
8. Kentucky - Cabinet reaches agreement with Bluegrass Org to Manage Hazelwood
The Lane Report, September 13, 2017
The Cabinet for Health and Family Services (CHFS) has reached an agreement with the Bluegrass Organization – a Kentucky-based, non-profit organization – to assume management of Hazelwood, a state-owned Intermediate Care Facility (ICF) for individuals with intellectual disabilities. The agreement includes Hazewood ICF, the Hazelwood specialty clinic, and three community homes.
"Hazelwood plays an invaluable role in Kentucky's healthcare infrastructure and has served to meet the needs of countless individuals, family members, and staff over many decades. Just as healthcare standards have progressed, so have best practices in the management of intermediate care facilities," said Wendy Morris, commissioner for the Department for Behavioral Health, Developmental and Intellectual Disabilities, a part of CHFS. "As we work to deliver a person-centered model emphasizing independence, we determined it is in the best interest of all involved to partner with Bluegrass – a proven leader in the field – to manage Hazelwood. As always, residents and family members are our top priority and we are working to ensure this transition will be seamless."
The transition follows the successful model Bluegrass.org has achieved with operation of Somerset-based Oakwood, the largest of Kentucky's four state-owned ICFs.
"Bluegrass has a proven record of managing the transition and operations of a state-run intermediate care facility," said CHFS Secretary Vickie Yates Brown Glisson. "The expertise and stability this arrangement provides will solidify services and insure consistent quality of care to this vulnerable population."
Under the terms, Bluegrass will assume responsibility for the complete staffing, management and administration of the facility, similar to the arrangement between the Cabinet and Bluegrass for the operation of Oakwood.
=============================
9. Massachusetts -Things "Sliding Backwards" for Two Men after Closure of their Sheltered Workshops (update)

By Dave Kassel, The COFAR Blog, September 12, 2017
Makeshift solutions that were adopted in recent months to help two men cope with the closures last year of their sheltered workshops have not been successful, members of their families say.
"It's sliding backwards," Patty Garrity, the sister of Mark Garrity, said in an interview last week. She said a paper shredding experiment that was tried with Mark in March worked only temporarily. Mark soon lost interest in the activity and is bored in his day program, which replaced his sheltered workshop.
In a separate day program, Danny Morin's temporary work came to an end a few months after it began. In addition, the clients in Danny's program are now scheduled to be moved into smaller, separate day programs, and Danny's mother is concerned he could be separated from his long-time girlfriend, another client in his program. The director of the program said that clients' preferences would be considered in the relocation decisions.
While sheltered workshops were operating for both Mark Garrity and Danny Morin, piecework was always available and both men were satisfied and fulfilled by it, their family members say.
Barbara Govoni, Danny Morin's mother, is trying to interest state lawmakers in her idea to reintroduce steady piecework activities in day programs for those who desire it. Govoni has proposed legislative language that would require the state to provide a "supportive work environment" to disabled persons who "cannot be comfortably be mainstreamed into a vocational community setting."
In May, we first reported on the impact of the closures of their sheltered workshops on Mark and Danny and their families.
We noted that paid piecework and assembly work that had been given to Mark and Danny to do in their sheltered workshops were taken away last year and replaced by day program activities that they couldn't relate to. In each case, their provider agency managed to come up with a makeshift solution to the problem that allowed the men to continue doing work similar to what they had done before.
Now it appears that those makeshift solutions haven't solved the underlying problems created by the workshop closures for the two men and potentially others.