NATIONAL NEWS
2. PUERTO RICO IN THE WAKE OF HURRICANE MARIA

So far this year, this has been one of the most devastating hurricane seasons on record.In the space of four weeks this year, three regions of the United States were struck. While Texas and Florida were fortunate to have systems in place to handle many of the emergencies that resulted from the storms, this was not the case with Puerto Rico.

Puerto Rico is a U.S. Territory. Although it does not have full representation in Congress, its 3.4 million people pay U.S. taxes and are American Citizens.
Several of our members have asked how individuals with intellectual and developmental disabilities and their families must have been affected during this hurricane, and in the days that have followed. There has been little to no coverage of the I/DD population in the aftermath of Hurricane Maria, but below are two articles that might indicate their plight. The first piece shows the state of disability services before the hurricane. The second, while not focusing solely on the intellectually disabled population, shows the state of emergency medical services in the days following the hurricane, and gives an idea of how long the recovery may be:


2A. Disabled in Puerto Rico Fend for Themselves after Decades of U.S. Neglect


B
y Robin Respaut, Reuters, December 9, 2016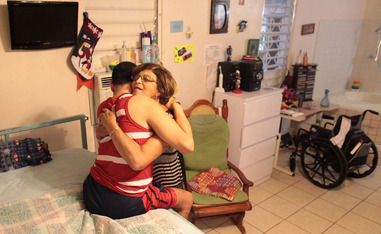 Ramona Febo-Boarman hugs her disabled son, Joey Cintron, 33, at their home in Bayamon, PR. She runs a day center for a dozen adults with severe needs.
Amid the island's economic crisis, citizens with severe mental and physical problems in the U.S. territory receive $74 a month of aid - about a tenth of what people in the states get.
Disabled citizens across Puerto Rico get almost no help from either the local or the U.S. government. For 40 years, Congress has repeatedly refused to give the impoverished island – a U.S. territory – the same support it provides disabled Americans in the 50 states under the federal Supplemental Security Income program (SSI).
Such disparities have come into stark relief as Puerto Rico wrestles with the largest municipal debt crisis in U.S. history and related economic turmoil. As a territory, the island cannot declare bankruptcy. Instead, Congress has formed a board to fix the financial mess.

2B. "This is Like in War": A Scramble to Care for Puerto Rico's Sick and Injured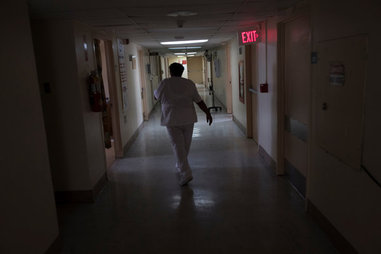 By Luis Ferre-Sadurni, Frances Robles and Lizette Alvarez,
The New York Times, September 26, 2017

As Hurricane Maria pummeled Puerto Rico, María Martínez Espada, 86, slipped because of a water leak in her apartment and broke her hip. Almost a week later, doctors at Hospital del Maestro have not been able to operate because of a shortage of medical supplies.
"The pain is a horrible thing," Ms. Martínez said from her sweltering third-floor bed at the hospital, where the medical director, Veronica Rodriguez, said, "At 3 p.m. it gets so hot that it's almost impossible to handle."
For the sick and the elderly, heat can be deadly. Without sufficient power, X-ray machines, CT scans, and machines for cardiac catheterization do not function, and generators are not powerful enough to make them work. Only one in five operating rooms is functioning. Diesel is hard to find. And with a shortage of fresh water, another concern looms: a possible public health crisis because of unsanitary conditions.
In Washington, officials scrambled to show their commitment to the hurricane-battered island as Democrats, and some Republicans, pressed them to do more. President Trump announced that he would visit Puerto Rico and the United States Virgin Islands next Tuesday to reassure residents that the federal government was mobilizing to help rebuild.
"Both have been devastated — and I mean absolutely devastated — by Hurricane Maria," he said. "And we're doing everything in our power to help the hard-hit people of both places."
One step Mr. Trump took on Tuesday was to waive a requirement that would have forced Puerto Rico, which is essentially bankrupt, to contribute money to the federal emergency fund.
Gov. Ricardo Rosselló of Puerto Rico praised Mr. Trump in an interview on Tuesday, saying he had spoken with him five times and had taken part in the Situation Room briefing. "He has been acting proactively," Mr. Rosselló said, adding that the president declared Puerto Rico a disaster zone as the storm was smashing into the island. But, "we still need more, and the president understands that and his team understands that."
The governor stressed that what the island had experienced in the past month was an extraordinary disaster. "Puerto Rico, within the span of two weeks, received two Category 4, Category 5 hurricanes," he said. "That has never happened anywhere. The devastation has been enormous."
~~~~~~~~~~~~~~~

VOR sends our thoughts and prayers to everyone affected by these natural disasters. We encourage our members to donate to disaster relief agencies to assist with the recovery efforts.
For information on charities that are helping in the recovery efforts in Puerto Rico, as well as in the U.S. Virgin Islands:

=============================
3. NOWHERE TO GO: Young People with Severe Autism Languish Weeks or Longer in Hospitals
By Christina Jewett, Kaiser Health News via the Washington Post, September 23, 2017
Teenagers and young adults with severe autism are spending weeks or even months in emergency rooms and acute-care hospitals because of a lack of community treatment programs able to deal with their outbursts, according to interviews with parents, advocates and physicians from Maine to California as well as federal and state data.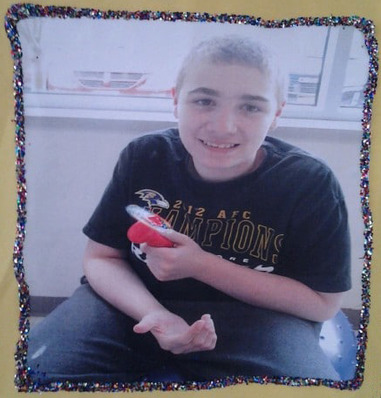 Ben Cohen lived for months in a hospital emergency room where food was passed through a slot in a locked door.
These young people — who may shout for hours, bang their heads on walls or lash out violently at home — are taken to the hospital after community social services and programs fall short and families call 911 for help. Once there, they sometimes are sedated or restrained for long periods as they wait for beds in specialized facilities or return home once families recover from the crisis or find additional support.

While the data on extended hospital stays are limited, national numbers on people with an autism diagnosis who were seen in hospital ERs nearly doubled over five years to 159,517 in 2014, according to the latest figures from the federal Agency for Healthcare Research and Quality. The total admitted for a behavioral or medical issues also nearly doubled, to 26,811 in 2014.
That same year, California recorded acute-care hospital stays of at least a month for 60 patients with an autism diagnosis. The longest were 211 and 333 days.
=============================
4. Study: Health Care a Struggle for Those With Special Needs

The study revealed that people with disabilities fared worse than others when it comes to their health status, the quality of their health care, access to care, unmet health care needs and number of hospitalizations and emergency department visits.
"One of the big problems that we saw is that we have these huge health care disparities and yet we're not training future physicians to even provide adequate care to patients with such complex needs," said lead author Jessica Prokup, a third-year medical student at Ohio State's College of Medicine and a fellow at the Nisonger Center for people with disabilities at Ohio State University's Wexner Medical Center. "And not enough people see it as an issue to begin the process of change."
The study used the 2015 Ohio Medicaid Assessment Survey of nearly 43,000 adults and about 10,000 children or their representatives.
Among the findings, 14 percent of children with disabilities reported problems receiving needed care, compared with 2 percent of children without disabilities.
For adults 65 or older, half of those with disabilities reported at least one unmet health care need, compared with 17 percent of older adults without disabilities.
=============================


Volunteers Needed! Volunteers are needed for several committees and specific tasks. VOR relies on its members to perform many of its key responsibilities. Please join us, and help us to continue our mission.


Click Here to See How You Can Help
=============================
STATE NEWS
5. Colorado - Services Cut in Switch to Trillium
By Amelia Harper and Lindell John Kay, The Rocky Mountain Telegram, September 24, 2017
For some parents and caretakers of children and adults with intellectual disabilities, the recent transition from Eastpointe to Trillium Health Services has meant dealing with slashed services.
"The transition has been more problematic than we anticipated in a few cases," Trillium Health Resources CEO Leza Wainwright told the Telegram.
Most of the individuals affected are ones who have Medicaid Innovations Waivers designed to help people with intellectual or developmental disabilities live a more independent lifestyle. Most people wait years to get one of these waivers, which they are told will guarantee them services for their lifetime. But several people in Nash County are now being told that service hours — hours where caretakers assist with their loved ones — are either being cut or dropped completely because of budget concerns.
Nash County Commissioner Lisa Barnes, who sits on Trillium's regional board, said the agency is aware of the complaints and working to resolve the issues.

The Nash County Board of Commissioners voted last year to leave Eastpointe Health Services due to a disparity in county member payments and scandals at Eastpointe in which an executive who later pleaded guilty in federal court was taking kickbacks and embezzling money meant for mental health patients.
Barnes helped guide the county through its transition, which was completed in July. The move came after a protracted legal battle with Eastpointe, which didn't want to let Nash County go.
However, Nash County's transition from Eastpointe to Trillium is going poorly for intellectually disabled residents, said Deborah Jordan, a parent advocate. Jordan, a member of the Tarboro Town Council, has a 22-year-old son with autism. She represents the interests of other parents with disabled children, including residents of Nash County.
"Many cases have had their services cut or stopped, which has caused family crisis and mental scars," Jordan said. "The families have not been informed in a timely manner about the changes to their services. Some client services were stopped and many administrative errors have occurred."
=============================
6. Maine - Group Home Evicts Man with Special Needs for Using Medical Marijuana

There are two twin mattresses on the floor in a small room where he spends most of his time — asleep and awake. Two more mattresses are attached to the wall with athletic tape to protect him when the seizures come. A small whiteboard hangs on the wall that lists basic information, including the hospital staff member assigned to him any given day. Under the "notes" section are three words that have been there since he arrived: "Waiting for placement."
Madore, who is diagnosed with neuromuscular disease and seizure disorder and has intellectual disabilities, is among hundreds of adults with disabilities who receive residential services under a MaineCare program known as Section 21.
Until recently, the 34-year-old had lived in a group home in Embden for about a decade. He was abruptly evicted in July after he started using medical marijuana to treat his seizures, which was not authorized by the home that provided his care.
His mother, Cathy Madore, said she takes responsibility for the medical marijuana, but disagrees with the outcome. She just wanted to help her son. Instead she left him homeless.
"Even a stray dog gets to go to a shelter," Cathy said. "He's a person."
Maine's system for providing services to adults with developmental disabilities has been fracturing for years, mostly because of insufficient funding and poor oversight. A recent federal audit revealed that the state failed to investigate a majority of critical incident reports for adults in residential facilities, including 133 deaths over a 30-month period from January 2013 through June 2015.
Officials with the Department of Health and Human Services have both downplayed the report's findings and insisted the system has improved, but providers, families and advocates don't believe that's true.
=============================
7. Pennsylvania - Move to Close Pennsylvania State-Care Facilities Panned, Hailed by Advocates of Disabled
By Stephen Huba, Trib Live, September 23, 2017
A bill pending in the Pennsylvania House has exposed fissures in the disability-rights community over the viability of large state-run institutions that care for the disabled.
House Bill 1650, introduced by state Rep. Kerry Benninghoff, R-Bellefonte, in March would close the five remaining intermediate care facilities by 2023 and transition an estimated 854 residents to home- and community-based settings.

Families of the residents, many of whom are older and have been living in the state centers for decades, are organizing in opposition to HB 1650 and plan to meet with members of the House Health Committee this week.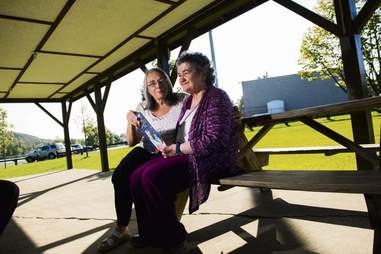 "We're trying to stop this bill before it happens," said Mary Wills, whose sister-in-law, Sandy, has been living at the Ebensburg State Center for 57 years.
Wills of Dysart, Cambria County, is one of 7,063 signatories to a petition that will be delivered to the statehouse Monday by a group called Keeping Individuals with Intellectual Disabilities Safe , or KIIDS.

But some advocacy groups and care providers support the legislation as an overdue acknowledgement that the state centers are outmoded and an unnecessary taxpayer burden, costing hundreds of thousand of dollars a year per resident. Closing them makes sense for reasons of economics and care, they say.
At their height in the 1960s, 14 state-run facilities served thousands of adults with mental and physical disabilities, whose families could not care for them. Today, there are five public centers left, spread throughout the state.

"We're due to close these centers. Other states have closed theirs," said Nancy Murray, president of the Arc of Greater Pittsburgh, which serves Allegheny, Beaver and Westmoreland counties. "They're too costly, and people don't need to live in an institution. All these people can live in a house somewhere and be able to enjoy their life that way."

Murray noted that the state center population is aging and declining, mostly through death and attrition. The census of the Hamburg State Center in Berks County, targeted for closure next year, has dropped by 90 percent in more than four decades – from 850 in 1970 to 75 in 2017.

Those demographic trends are driving up the cost of care at a time when state resources for people with autism and other intellectual disabilities are already limited, she said.

"As each person leaves (a state center), the cost for everybody else goes up because your facility costs are still there. The cost per person continues to inch up," she said.
Murray, who helped draft HB 1650, said the state system of care needs to be "rebalanced" in favor of home- and community-based services. An estimated 13,588 Pennsylvanians currently are on a waiting list for such services, according to the PA Waiting List Campaign .
KIIDS spokeswoman Susan Jennings of Mansfield, Tioga County, said the group is not opposed to community-based care as such but wants to keep the state centers open as an option for their loved ones, especially those who have been living in them for years.
Jennings' son, Joey, 25, has a dual diagnosis of autism and intellectual disabilities and is a resident of the White Haven State Center in Luzerne County. He moved there in July 2016 after what Jennings described as a harrowing four years in the state's group home system.

Joey lived in three group homes, in Pittsburgh, Philadelphia and Bethlehem, she said.

"That living environment was inappropriate for his complex needs. They were unable to handle his maladaptive behaviors. He underwent the same brutal cycle over and over," Jennings said.
When Joey got violent, the group home staff would call police, and Joey would be discharged, taken to a local emergency room and admitted to a hospital psychiatric ward, she said.

One time, group home staff took him to see the movie "Fifty Shades of Grey," which has strong sexual themes, after which he called his mother to complain. "Tell the police, tell the judge, tell President Obama, I don't like inappropriate video," Jennings quoted her son as saying.

Finally, Jennings filed a petition with the courts to have Joey admitted to a state center. "We stumbled onto the state center. I found it online. I didn't even know it existed," she said.

The state Office of Developmental Programs, which operates the five centers, allowed his admission to White Haven after several court appeals, she said.

"The difference is like night and day. He is in a stable, structured environment. … My son is happy and healthy," she said.

=============================
8. Arkansas - Street Fair Allows Clients of DHS to Sell Arts & Crafts
By Jennifer Nixon, Arkansas Online, September 28, 2017

On Friday, people walking around downtown Little Rock looking for lunch may stumble across what looks like a typical gathering of food trucks and art vendors. But while the food trucks may be familiar, the artists at the Fall Food & Crafts Fair are anything but average.

They're all clients of the Department of Human Service's Developmental Disabilities Services division -- either residents of a DHS Human Development Center or clients at one of its community-based partner organizations. And they made the paintings, vases, rugs and birdhouses they sell.
"You'll never find a more excited vendor to sell you something," says Glenn Bolick, public information manager with DHS.
Developmental Disabilities Services Director Melissa Stone says the fair is "just another way of trying to raise awareness about the Human Development Centers in a positive way and support the clients that live there."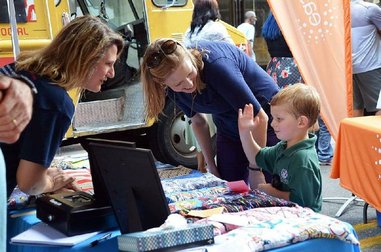 DHS has five Human Development Centers, residential facilities for people with intellectual disabilities across the state: in Warren, Booneville, Arkadelphia, Jonesboro and Conway. Each center offers creative work programs for the residents.
"They want to work," Stone says. "We try to come up with new, inventive things for them to get out and do that work. With the right kind of support, people with disabilities can flourish in a work environment, and it brings so much purpose to their life."
So, in Booneville, they make rugs. In Jonesboro, it's birdhouses. In Arkadelphia, Razorback banks.
Other people with disabilities who receive services through DHS waiver programs with community organizations such as Easter Seals and Independent Case Management make things too.
People with DHS wanted to find a way to get those products out to the public, a plan which would not only earn money for clients, but would give clients another way to interact with the community.
=============================
9. Oklahoma - Woman Wanted for Giving Marijuana, Booze to People with Developmental Disabilities at Group Home

By

,Oklahoma News 4, September 22, 2017
A woman is wanted for giving marijuana and booze to developmentally disabled people in her care.
Lynndia Allred is charged with three counts of neglect by a caretaker.
According to court documents, Allred brought three people she was supposed to be caring for at a group home to her apartment in Norman. The affidavit states the weekend trip turned into something more like a party. Two of the group home members told investigators they "drank beer and smoked marijuana with Allred."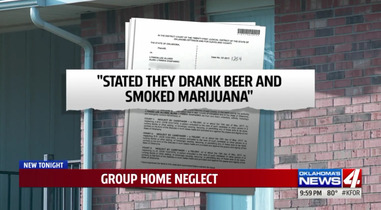 News 4 talked to Christina Chicoraske, the executive director of Among Friends. She works with adults who have developmental disabilities.
"If you're working with people with developmental disabilities, then a lot of times they're functioning at a 6-year-old level, or a 16-year-old level," she said.
It's a functional capacity she said would make it easy for someone to take advantage of them. "May not have the intellectual or emotional capacity to make smart choices when it comes to maybe having that intuition or that gut when it comes to those experiences," she said.
Chicoraske also worries that some of those involved may have been on medication that could be dangerous if mixed with drugs or alcohol. "That could counteract a lot of what they're doing if they're taking diabetes medication, or some people with disabilities also have mental health issues so they're taking anti-psychotics," Chicoraske said.
News 4 went to the apartment and knocked on the door where police say the crime happened.
Lynndia Allred wasn't there. In fact, she had apparently been evicted.
The company she worked for, Dungarvin, runs group homes in 14 states, including Oklahoma.