3A. Analysis: Minority Students Often Left Out of Special Ed
By Michelle Diament, Disability Scoop, September 5, 2017
Despite broad concern that minorities are overrepresented in special education, new research suggests that the opposite may in fact be the case.
Across elementary, middle and high school, students from minority backgrounds are less likely than white children to be identified as having disabilities, according to a new analysis published in the journal Educational Researcher.
That's been the case since at least 2003, the study found.
The research is based on data from nearly 400,000 students across the country who took the National Assessment of Educational Progress known as the Nation's Report Card.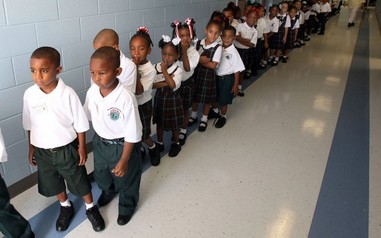 "Among children who were otherwise similar in their academic achievement, poverty exposure, gender and English language learner status, racial or ethnic minority children were consistently less likely than white children to be identified as having disabilities," concluded researchers from Penn State University and the University of California, Irvine.
3B. New York - NYC Denies Nearly 9,000 Kids with Disabilities Services They Need
By Ben Chapman, New York Daily News, September 4, 2017
The city is illegally denying necessary services to thousands of students with disabilities — and the poorest kids get cheated the most often, according to advocates and data the Daily News obtained.
As of May, 8,854 public school students with disabilities were lacking services such as speech therapy, physical therapy and counseling, according to figures the city Education Department supplied.
State law requires city schools provide supports for students, and those services are spelled out in the kids' medical treatment plans. But in thousands of cases, schools don't have the facilities or staff to deliver mandated services.
The city's data show students from underserved districts in the south Bronx and Brooklyn are most likely to be deprived of the services they need to learn in comfort and safety.
"Services are hard to come by, especially in hard-to-staff schools, especially in districts in the Bronx," said Ellen McHugh, who serves on the City Wide Council of Special Education.
She said schools often lack therapists, and parents struggle to navigate the city's complex system for disabled students' Individualized Education Programs, or IEPs.
The problem is most acute in poor districts such as Bronx District 9, where 856 kids with disabilities weren't getting their needed services as of May.
By way of comparison, in Manhattan's relatively affluent District 1, only 67 students were missing the treatments they needed, the city's figures show.
Critics have blasted the Education Department for years because many kids with disabilities never get the help they need to learn.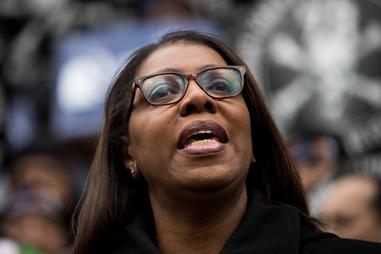 In 2016, Public Advocate Letitia James filed a lawsuit against the city for failing to provide disabled students with mandated supports.
In July, advocates slapped the city with another suit for failing to provide services to hundreds of Bronx kids with disabilities.
3C. Rental Market Unkind to Those with Developmental Disabilities
By Shaun Heasley, Disability Scoop, September 7, 2017
As people with developmental disabilities increasingly live in community-based settings, a first-of-its-kind report is finding that they face a multitude of barriers in obtaining housing.
When inquiring about rental units, people with disabilities often get no response. They are less likely than others to be told that a unit is available or invited to check it out. And frequently, they are treated adversely or encouraged to look at a different unit than what was advertised.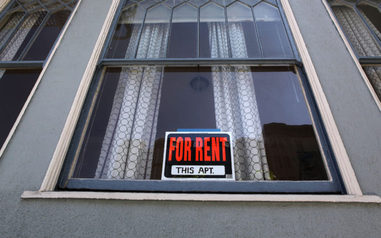 These are the findings of a report released this week that was produced for the U.S. Department of Housing and Urban Development looking at discrimination in the rental housing market against those with developmental disabilities and mental illness.
The study comes as more with disabilities leave nursing homes and other institutional facilities for community-based living options.
While it is illegal to discriminate against people with disabilities in renting, selling or financing housing, such complaints accounted for more than half of housing discrimination claims last year. Accordingly, the government sought to better understand the types of discrimination individuals face and how common it is.
=============================
NATIONAL NEWS
4. Feds Award Millions For Autism Research
By Michelle Diament, Disability Scoop, September 8, 2017
The federal government is handing out nearly $100 million with an eye toward better understanding autism and developing interventions for the condition.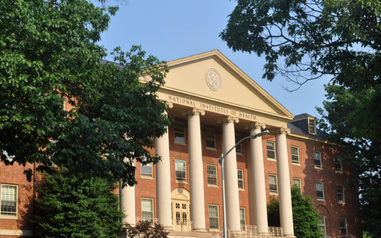 The National Institutes of Health said this week that it will award nine grants over the next five years as part of the Autism Centers of Excellence program, an effort to support large-scale, multidisciplinary research on ASD.
"Autism spectrum disorder has myriad environmental, genetic, neurological and behavioral components," said Diana Bianchi, director of the NIH's Eunice Kennedy Shriver National Institute of Child Health and Human Development, one of five institutes funding the program. "These awards will allow us to understand how autism differs in girls versus boys, to develop earlier methods of screening and to improve treatments based on specific symptoms."

=============================
5. Department of Education

In accordance with Executive Order 13777, "Enforcing the Regulatory Reform Agenda," the Department of Education (Department) is seeking input on regulations that may be appropriate for repeal, replacement, or modification.

The deadline for submissions has been extended to September 20, 2017
Click here for more information

=============================
STATE NEWS

6. Texas - Longtime Houston Sanctuary for Adults with Disabilities Coping with Flood Damage

By Elissa Rivas, ABC-TV 13, September 3, 2017

The clients of The Center are among Houston's most vulnerable population: adults with intellectual and developmental disabilities.

Board president Richard Rosenberg gave ABC13 a tour of their devastated facility. "We provide daycare services so their parents can go to work, and as you can see it's been impacted by Harvey," said Rosenberg.

The Center's location along Allen Parkway makes it vulnerable to Buffalo Bayou's destructive flooding. The Center is now down to one building run by a generator. "Our program is shut down for now, which means people are staying at home with their families. They may not be able to go to work - it has a ripple effect," said Rosenberg.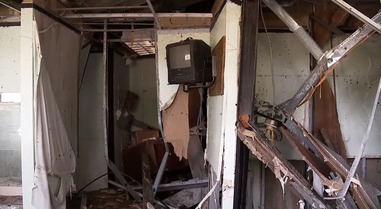 Cleanup has already started, but on the lowest floor is something not easily replaced. The walls and ceiling collapsed under the weight of the water, so we couldn't step inside through the front door. A look through the window shows what remains of a recently renovated, state-of-the-art dental office for adults with limited mobility and behavioral differences.

"They can't just go anywhere for dental services. Here, they were able to get what they needed," explained community relations manager Natasha Turner.
=============================
7. Illinois - IL Neglects Promised Pay Increase to Caregivers
By Michon Lindstrom, NewsCenter 17, September 3, 2017
It's been two months since Illinois lawmakers approved a pay raise for caregivers of people with intellectual and developmental disabilities, but organizations are still waiting to see the funds.

The raise was approved on July 6th as part of the state budget, and the money was set to appear on paychecks at the end of August, however organizations say they have yet to see any money from the state. Now "They Deserve More", a statewide coalition of more than 50 organizations who provide services to disabled, is calling on the Illinois Department of Human Services and the Illinois Department of Healthcare and Family Services to implement the promised 75-cent per hour pay increase.
"I think the field has been understanding somewhat of the delay, but I don't believe that any service provider would have expected to be in the beginning of September and still not have a clear sense from the administration about what they are doing about this." said Josh Evans, VP of Government Relations for the Illinois Association of Rehabilitation Facilities.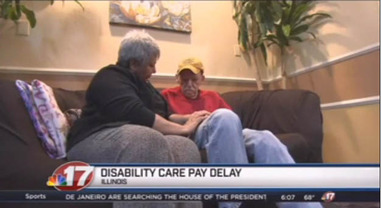 It's a delay that is causing a level of uncertainty in an industry that is already in crisis.

"That lack of investment over time has brought us to this point where now they can no longer compete with other healthcare industries, with fast food industries, other areas that are able to raise and provide higher level entry level wages because they operate under an independent different business model, where organizations are at the mercy of what the state will reimburse us through contracts." said Evans.

=============================
8. Iowa - After Six Months, Glenwood Resource Center Names a New Leader
By Tim Johnson, The Daily Nonpareil, September 6, 2017
Jerry Rea has been appointed superintendent of the Glenwood Resource Center.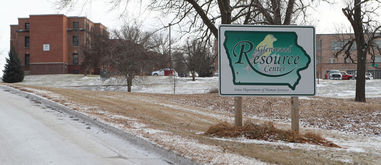 Rea, who has spent his professional life in Kansas, will begin his duties the week of Sept. 11, Iowa Department of Human Services Director Jerry Foxhoven announced Friday in a release.
Foxhoven expressed confidence in his new appointee.
"Dr. Rea has vast experience overseeing operations at a state hospital and serving individuals with intellectual disabilities and mental health needs," he said. "He is committed to offering an array of supports and services to individuals with the most severe disabilities."
Rea was superintendent at Parsons State Hospital and Training Center in Kansas for 13 years, the release stated. Prior to that, he was the program director/manager at Parsons from 1991 to 2004. In addition, he served as the superintendent for both Parsons and the Osawatomie State Hospital and Rainbow Mental Health Facility from August 2013 through August 2015.
He also served as an adjunct research scientist at the University of Kansas and an adjunct professor of psychology at Wichita State University. He is the lead author of many publications on services for individuals with developmental disabilities and has presented papers at conferences across the United States and Canada.
Rea earned a doctorate in child development and child psychology at Kansas in 1996.
"We're very pleased to welcome Dr. Rea to Iowa and are confident his years of operations and research experience will benefit the more than 200 Iowans Glenwood Resource Center serves and the service system as a whole," said Rick Shults, administrator of Mental Health and Disability Services.
=============================
9. Maine - Lawmakers Press DHHS to Explain How It Failed to Protect Disabled Adults
By Noel K. Gallagher, Portland Press-Herald, September 6, 2017
After a highly critical federal audit found that a state agency failed to protect adults with developmental disabilities, leaders of the Legislature's Health and Human Services Committee are pressing the agency to explain what happened – and how it can be prevented in the future.
The committee posed a series of pointed questions in a four-page letter dated Aug. 31 to Department of Health and Human Services Commissioner Ricker Hamilton, and said it expects a written response delivered no later than next Tuesday. The panel's quest for accountability includes trying to learn why the agency failed to investigate the deaths of 133 disabled adults who were receiving services.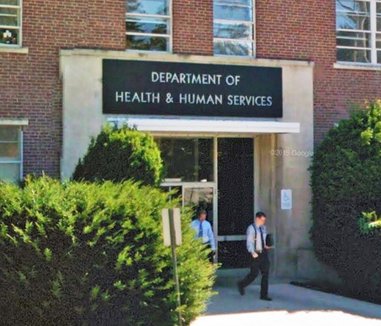 "We're hoping that all of these questions are answered, because they deserve to be," said committee co-chair Rep. Patty Hymanson, D-York. "Frankly, it's hard to do this. No one wants to talk about it, no one wants to give answers to these hard questions. But this is an identified problem. As the committee of jurisdiction (over DHHS) we need to press hard, for the sake of people in Maine who cannot take care of themselves."
Federal officials also are reviewing the audit for possible action. The U.S. Center for Medicare and Medicaid Services, which funds services for the disabled, could require the state to change the way it responds to reports of abuse and other critical incidents. Specifically, CMS said it would take the auditor's recommendations into consideration when negotiating future funding for services.
Horses here in the Mid-South are helping those with disabilities like Jonathan Short in a unique way.
The 38-year-old has the time of his life riding horses at Southern Reins in Nesbit, Mississippi. He has limited verbal ability, but his joy is easy to understand.
"This is where the magic happens because every single lesson we are watching miracles happen," said Astrid French.
Thanks to a nearly $6,000 grant from the Christopher and Diana Reeve Foundation, Jonathan and 12 to 15 other SRVS clients get to participate in Equine Therapy.
"We really wanted to provide this therapy to for some of the people that have more significant disabilities and are in our intermediate care facilities and may not have the benefit of getting out in the community like some of our more able bodied peers."
There are two programs at the camp. Barn Therapy allows clients to care for the horses. Therapeutic Riding gets them on the horses for some fun.
"This isn't typical because the people receiving the riding lessons today have cerebral palsy or a significant disability."