=============================

VOR and YOU
VOR's Legislative Initiative - Why It Matters

This June, VOR members will meet in Washington to speak with legislators and their aides. This is our opportunity to speak up for a full continuum of care, to educate lawmakers about the needs of our severely or profoundly intellectually disabled family members, and to illustrate the need for adequate funding for all residential and occupational services for people with I/DD.

Most legislators want to do the right thing, and most believe they are doing the right thing. Unfortunately, they often follow attractively constructed ideological memes promoting "Group homes instead of Institutions" or "Inclusion for All". Often, the people promoting these ideas misrepresent Olmstead and overlook the most severely intellectually disabled. They do not stand for choice. We do. And we understand that you cannot treat a diverse, vulnerable population with simplistic language and one-size-fits-all policies.
This is our chance to tell our side of the story. This is our chance to show the diversity of the population, and to make clear the need for policies that are well-considered and protect the needs of all individuals with intellectual disabilities.

Some of the articles in this week's newsletter illustrate this need. An examination of "Money Follows the Person" shows that while it has helped many to find appropriate care in group homes, it has also been used to leverage the closure of intermediate care facilities, and to displace thousands of people out of appropriate care and into dangerously inappropriate alternatives. Of course, the people promoting the program won't tell you that. The article on the National Council on Disabilities' dismissal of Guardianship reveals a lack of concern for those who need guardianship or for the rights of families and concerned conservators to protect the truly vulnerable.

Look at these stories, and look through them to consider who is being included, and who is being excluded, by the misguided policies that treat individuals as a stereotypical group, where all members of the group have similar needs, hopes, and aspirations.

Then come join us in Washington, D.C. this June to speak our truth to power.


=============================
NATIONAL NEWS
1. Race Is On To Renew Program That Moves People Out Of Institutions


By Michelle Diament, Disability Scoop, March 20, 2018
Disability advocates are scrambling to get funding renewed for a federal program that's helped thousands with developmental disabilities leave institutions but is now on the brink of collapse.
For more than a decade, a Medicaid program known as Money Follows the Person has assisted over 75,000 people transition from institutions to community-based living. But the program expired in September 2016 and state programs have been running on fumes ever since.
In recent days, however, U.S. Reps. Debbie Dingell, D-Mich., and Brett Guthrie, R-Ky., unveiled a bill known as the EMPOWER Care Act (H.R. 5306) to reauthorize the program, allocating $450 million per year through 2022. Similar bipartisan legislation was introduced in the Senate late last year.
"Eight states have already exhausted their MFP funding and every other state will exhaust their funding by the end of the year," said Alison Barkoff, director of advocacy at the Center for Public Representation. "As a result, states are already starting to dismantle their programs. So it is urgent."
=============================

2. Federal Report Calls For Alternatives to Guardianship


By Shaun Heasley, Disability Scoop, March 23, 2018
Guardianship is overused, often unnecessarily depriving individuals with disabilities of their rights, warns a federal agency tasked with advising Congress and the president.
In a 201-page report issued this week, the National Council on Disability said that guardianship is commonly seen as a "benevolent measure" and imposed based upon assumptions about the capabilities of people with disabilities without appropriate reason.
Currently, about 1.3 million Americans are subject to guardianship.

While guardianship is supposed to safeguard individuals, the report found that courts are frequently incapable of adequately monitoring these situations, potentially leaving people with disabilities vulnerable to abuse or neglect at the hands of those who are supposed to be protecting them.
Continued
=============================

3. Room for Debate: Three Articles on
Betsy DeVos' Decision to Delay Implementation of Special Education Rule


A. DeVos Defends Move to Delay Special Ed Rule
By Michelle Diament, Disability Scoop, March 21, 2018
U.S. Secretary of Education Betsy DeVos is sticking by her agency's plan to pause an Obama-era rule designed to make sure kids from certain backgrounds aren't wrongly placed in special education.
Speaking before a House of Representatives Appropriations subcommittee this week, DeVos said that holding off on implementing the regulation is the right thing to do.
"The delay is to ensure that we have a regulation that really does meet the needs of students that are disabled in any way," DeVos said in response to questions from Rep. Barbara Lee, D-Calif.
"We are committed to upholding the provisions of (the Individuals with Disabilities Education Act) and I want to make very clear that we are addressing this issue appropriately," DeVos continued. "There have been varying opinions and very different approaches to this within the community that are most concerned about this. We want to ensure that we end up with a regulation that does address these issues appropriately."
The regulation in question was finalized in the last weeks of the Obama administration. Known as the "significant disproportionality" rule, it sought to create a uniform national standard to make sure that students from minority backgrounds are not overrepresented in special education.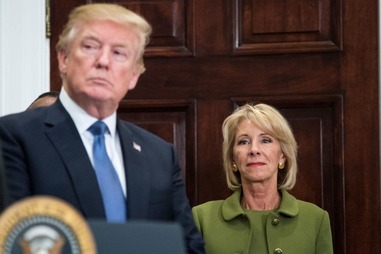 B. Why DeVos' Plan to Delay Obama-Era Rule On Minority Special-Education Students Is A Mistake
By Valerie Strauss, The Washington Post, March 20, 2018
President Trump's Education Department is on its way to delaying by two years the implementation of an Obama-era rule that is intended to address the disparities in the treatment of students of color with disabilities.
The rule amended regulations that are part of the Individuals With Disabilities Education Act (IDEA). John King, the U.S. education secretary in December 2016, said then:
"Children with disabilities are often disproportionately and unfairly suspended and expelled from school and educated in classrooms separate from their peers. Children of color with disabilities are overrepresented within the special education population, and the contrast in how frequently they are disciplined is even starker."
Current Education Secretary Betsy Devos is not a fan of the rule, and last month, the Education Department published a notice in the Federal Register seeking public comment on a proposal to delay the rule's implementation, which was supposed to start in the 2018-2019 school year. The notice says the department wants to make this move to ensure the rule's "effectiveness" can be ensured.
Continued
C. Black and Latino Children Are Often Overlooked When It Comes To Autism

By Casey Rentz, National Public Radio, March 19 2018
Sherry Alvarez says she knew there was something different about her son since he was about 9 months old. Back then Sherry says his pediatrician told her there was nothing to worry about, " 'Boys are a little slower than girls, so let's just wait until his second birthday.' " We aren't using Sherry's son's name to protect his privacy.
By her son's second birthday, Sherry says she was getting desperate. She didn't know why he wasn't talking yet or showing affection like other kids. At 2 1/2, he was referred to Children's Hospital Los Angeles. There, after four hours of tests, Sherry says the doctor handed her a 20-page report explaining his autism spectrum disorder diagnosis, among others. She says she was paralyzed by emotion.
ASD is a disease that affects people of all races and ethnicities, but research shows that African-American and Latino children with autism are diagnosed at older ages than white children, giving them less of an opportunity for proper intervention and treatment.
This is especially true of minimally verbal kids like Sherry's son and there are many possible reasons for a late diagnosis. Some families face healthcare access issues and prohibitive costs for treatment, and some families just don't know how important it is to get diagnosed to move on to the treatment phase. The dialog between doctors and minority families during the diagnosis process is critical.
A recent study from Georgia State University found that African-American parents reported fewer concerns about behaviors like delayed speech and repetitive behaviors, even though their children showed a greater severity with these symptoms, overall. But, of course, it isn't all up to parents.
"There are very likely parent aspects of this and very likely clinician aspects of this," says Meghan Rose Donohue, a lead researcher on the study.
Perhaps families, like Sherry's, don't have the information necessary to really push physicians, but it is also possible that doctors don't take these cases seriously enough from the beginning.
=============================

4. Thousands Lose Right To Vote Under "Incompetence" Laws

By Matt Vasilogambros, Pew Charitable Trusts, March 21, 2018
Like many people with autism, Greg Demer is bright but has difficulty communicating. He has a passion for the history of military aircraft, but he can't quite keep up a conversation with new people. When he meets someone, he'll quote from movies or ask them about their favorite Teenage Mutant Ninja Turtle.
His mother, Linda Demer, worried that he wouldn't be able to make complicated decisions about his finances and health care once he turned 18. So, in 2005, a judge in Los Angeles, where they live, granted her conservatorship over Greg.
"I wanted to protect him," she said of her son, who is now 31.
But in the conservatorship process, the judge also stripped away Greg's right to vote. He was not only unfit to make decisions about his health care and finances, the judge ruled, but he also was unfit to participate in the democratic process.
In being declared "mentally incapacitated," he joined tens of thousands of Americans with disabilities who every year lose their right to vote during guardianship proceedings, according to the California-based Spectrum Institute, an advocacy group for people with disabilities.
=============================
STATE NEWS
5. Arkansas - Campaign Seeks to Stop Proposed State Policy Change
New Limits Seek to Restrict Medicaid Eligibility For Children in Developmental Programs
By Kaitlyn Rigdon, El Dorado News-Times, March 20, 2018
A statewide policy change could lead to more than 100 children in the El Dorado area to lose medically necessary developmental services as the Arkansas Department of Human Services looks to control costs and prevent an "over-utilization" of programs.
The Arkansas Department of Human Services has announced proposed changes on new limits to restrict Medicaid eligibility for children in developmental programs, called the "one-therapy rule."
The proposed policy change will go into effect on July 1, and will lead to more than 100 children in El Dorado with developmental delays to lose medically necessary developmental services. In the next 18 months, the policy change will also affect over 3,300 children in the state.
In El Dorado, children with developmental delays are enrolled in ECCEL, a Developmental Day Treatment Clinic Service (DDTCS), which is prescribed by a doctor as a medical need.
"What (DDTCS) does is focus and get an individualized program plan," said Grady Tracy, chief operating officer at the South Arkansas Developmental Center for Children and Families. "That's the most powerful part of the program that is going to be lost … those individualized program plans."
Instead of receiving treatment prescribed in individualized program plans, the department is proposing to place children in state-funded programs such as ABC, Head Start and Early Head Start.
=============================

6. Minnesota - Cuts Could Threaten Developmental Disabilities Providers
By Kate Evers-Hillstrom, The Globe, March 21, 2018
More than 1,000 people swarmed the Minnesota Capitol Rotunda last week to rally against looming cuts to non-profits that help people with disabilities.
The Center for Medicare and Medicaid Services has said it will wipe out cost-of-living increases given to disability providers from 2013 to 2015. That 7 percent cut, along with new programs and new rates for disability providers, means most providers could face a roughly 9.5 percent cut as soon as this July.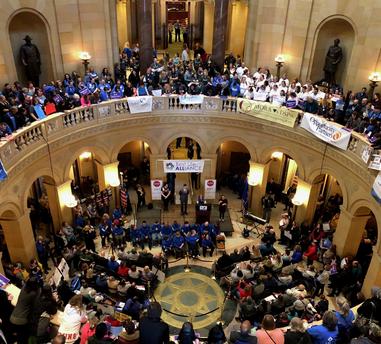 The changes have implications throughout the state and in southwest Minnesota. Elizabeth Schear, executive director at Rock County Opportunities (RCO), was one of many in the industry in St. Paul last Tuesday to rally for a legislative solution.
RCO serves around 50 clients, half of whom have jobs in the community and half of whom take part in other activities meant to make the day more productive and meaningful. The threatening cuts, equivalent to about two full-time RCO staff members, would force providers to make tough decisions, Schear said.

"We're completely reliant on the state for our revenue … so do we take that money away with our staff or eat the cost in our budget?" Schear said. "We're already barebones in providing enough staff so that we're within our staff to client ratio. How do we cut that from a barebones budget?"
=============================


7. Virginia - Adult Daycare Provider Cites Costly Healthcare Shifts As Reason For Closing
From CBS 6 News, March 19, 2018
After 51 years of service, an adult daycare center will close its doors in April 2018, citing changes at both the state and federal level to programs that support seniors and those with disabilities.
Grace Place Adult Daycare currently provides services for 170 adults over the age of 18, with intellectual and or developmental disabilities and age-related conditions. Their clients have conditions like Cerebral Palsy, Multiple Sclerosis, ALS, autism, Alzheimers, and Parkinson's disease.
Interim CEO Lynn Seward filed Chapter 11 bankruptcy on March 16. "Regrettably, with changes at both the state and federal level to programs that support seniors and those with disabilities, A Grace Place is no longer viable," the organization claimed in the filing. "After serving as a health and social safety net for over 51 years, A Grace Place has decided to close."
The decision to file was due to what the organization referred to as "an increasing gap between Medicaid reimbursement and the actual cost of care." Additionally, the CEO cited a growth in costly regulatory requirements and a shift from a "government-based system of care to a privatized one."
Further Reading - Opinion from Non Profit Quarterly:

Another Nonprofit Program Closes, Citing Medicaid Reimbursement Rates

=============================

8. Texas - In New Plan, Texas Education Agency Vows Special Ed Overhaul With Limited Dollars
By Aliyya Swaby. The Texas Tribune, March 19, 2018
After gathering thousands of responses from parents and advocates, the Texas Education Agency has sketched a new plan for educating kids with disabilities — with limited money.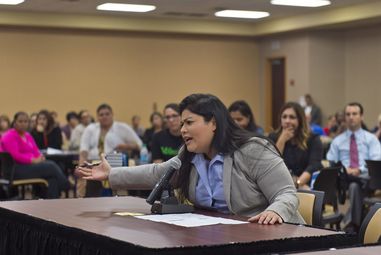 The TEA released the 42-page draft strategic plan Monday, a couple of months after a 15-month federal investigation concluded Texas had not been providing kids with disabilities the tools and services they needed to learn, likely failing to educate thousands of students and violating federal law. Federal officials found the state was effectively incentivizing school districts to keep their special education numbers low and that many teachers fundamentally misunderstood the legal requirements around educating kids with disabilities.
Agency staff members held more than 100 focus group meetings across the state in February and collected thousands of electronic responses to get initial feedback on how special education should be revamped.
The agency acknowledged it has been providing a smaller and smaller percentage of kids with federally funded special education services over the past 15 years, despite a stable national trend in special education rates. Without individualized academic support they are owed, the vast majority of Texas kids with special needs are on track to leave the public education system with subpar reading and math skills.
Continued
=============================
DENTAL CARE
9. British Columbia - B.C. To Increase Dental Surgeries in Bid to Improve Access to Vulnerable Patients

By Wendy Stueck, The Globe & Mail, March 19, 2018
The B.C. government plans to increase the number of dental surgeries done in the province by 15 per cent this year, as part of a strategy to improve access to dental care for vulnerable patients including disabled children and adults.

The strategy, announced on Monday by B.C. Health Minister Adrian Dix, follows years of lobbying by patients and advocacy groups frustrated by waits of months or even years for dental surgeries for people including children with autism and adults with dementia, who are not safely able to get dental care without anesthesia.
"Too many people with intellectual or developmental disabilities have not been able to access timely dental care. And as a result, they all too often suffer with severe and preventable deterioration in their dental health," Faith Bodnar, executive director of advocacy group Inclusion B.C. said at a news conference held at B.C. Children's Hospital.
That decline in dental health is often followed by other, related health problems, Ms. Bodnar said.
"Without access to hospital-based dental care … they can wait in agony, at times for years, because there just isn't sufficient [operating room] access," she added.
=============================

Nice Story of the Week

10. This Barber Tried For Years to Cut This Boy's Hair. Then They Had A Breakthrough
By Allison Klein, The Washington Post, March 19, 2018
The first time 10-year-old Jordie Rowland came into the barber shop it was a "disaster," barber Lisa Ann McKenzie said.
Jordie, who has autism, struggled with his parents to run back outside the moment he got in the shop, which is in Brisbane, Australia.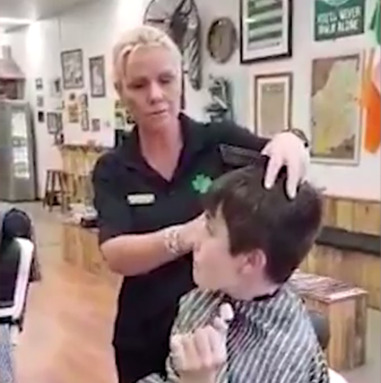 McKenzie ended up walking around the barber shop with Jordie that day two years ago, even lying on the floor with him. She got in a few snips but stopped the haircut when she saw that Jordie was agitated.
The stimulation of a haircut can be painful and terrifying for some children with autism. Jordie was no different.
"I felt that I'd failed, and it made me want to do better," said McKenzie, who has been a barber for more than three decades. "It made me want to learn more about autism so I could connect with him and take away his fear."
He was the first nonverbal child she had had as a customer. He was not her last.
=============================