NATIONAL NEWS
3. HURRICANE RELIEF - Please join us in supporting all of the people affected by Hurricanes Harvey, Irma, and Maria.

If you have family or friends in Puerto Rico, here are three hot line numbers that you may try to call for information:
787-777-0940
877-976-2400
The Administration for Community Living (ACL) has provided some resources for people who need assistance or services in the wake of the recent hurricanes.
For our Florida members, here is a list of contacts from the state Agency for Persons with Disabilities
http://apd.myflorida.com
VOR sends our thoughts and prayers to everyone affected by these natural disasters. We encourage our members to donate to disaster relief agencies to assist with the recovery efforts.
=============================
3. Report: Direct Care Workers Can't Afford to Stay in Jobs
By Shaun Heasley, Disability Scoop, September 22, 2017
The direct support professionals that many people with disabilities rely on are barely getting by, with new data showing they make little more than minimum wage despite surging demand.
The median hourly wage for home care workers is $10.49, but due to varying hours, those in the field typically make just $13,800 per year.
The figures come from an annual report out this month from PHI — a group that works to promote the direct support workforce — that's based on data from the U.S. Bureau of Labor Statistics.
Low wages have persisted in the direct support workforce even as the number of people working in the field has more than doubled in the last decade, PHI said.
When adjusted for inflation, the report found that hourly wages for home care workers are up just 16 cents compared to 2006.
About 1 in 5 home care workers lives below the federal poverty line and more than half rely on public assistance. The majority work part-time or only a portion of the year, according to PHI.
The picture is only marginally better for nursing assistants working in people's homes, PHI found, with those jobs netting a median wage of $12.34 per hour or roughly $20,000 annually.
=============================


Volunteers Needed! Volunteers are needed for several committees and specific tasks. VOR relies on its members to perform many of its key responsibilities. Please join us, and help us to continue our mission.


Click Here to See How You Can Help

=============================
STATE NEWS
5. Pennsylvania - Representative Frank Burns Vows to Fight State Center Closure
From We Are Central PA-com, September 20, 2017
The office of Representative Frank Burns released the following statement on House Bill 1650 that would call for the closures of the state centers for the intellectually disabled:
"Saying more than 700 jobs and specialized care for nearly 225 mentally and physically disabled adults are at stake, state Rep. Frank Burns, D-Cambria, is vowing to lead the fight against a bill that would close the Ebensburg State Center.
Burns said H.B. 1650, authored by Republican state Rep. Kerry Benninghoff of Centre County, would mandate closure of all five of Pennsylvania's remaining intermediate care facilities by 2023 – including the one in Ebensburg.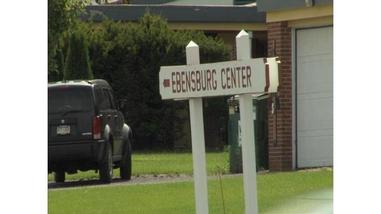 Burns said that while he understands the desire to cut costs by moving these residents to home- and community-based settings, he has a deep desire to make sure that the voices of family members are heard before any systemic change is made.
"As someone who has visited the Ebensburg facility, I have witnessed the care needs of its residents and heard from many grateful family members," Burns said. "The current staff does an excellent job dealing with adults who have very serious mental and physical disabilities – and for whom 'round-the-clock care' is not just a phrase, but a reality.
"Before we go changing a system that has literally kept people alive, sometimes beyond medical expectation, there should be a full vetting and support from all stakeholders – starting with those who have loved ones in the Ebensburg State Center."
=============================
6. Florida - Officials check on Brevard's Nursing Homes, Other Facilities after Hurricane Irma
Note: The following article concerns mostly nursing homes for the elderly. We are including it here in hopes that facilities for people with I/DD are getting proper attention and care.
By Dave Berman, Florida Today, September 15, 2017
The checks were done in person or by phone by the Florida Department of Health, the Brevard County Sheriff's Office, Brevard County Fire Rescue, and municipal police and fire departments.
Of particular concern: Whether a lack of electricity or water because of the hurricane was negatively affecting residents, and whether the temperature in living areas was exceeding 85 degrees.
"The Health Department, police and fire departments are assessing facilities to ensure there are no life, safety or health issues," Brevard County communications director Don Walker said. "Some facilities have power, some have generators and some have undersized generators. Facilities unable to maintain the standard of care, including keeping temperature below 85 degrees, are being advised to take actions to resolve the issue."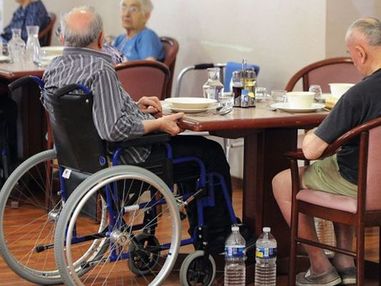 Walker said Brevard has 20 nursing homes and 190 assisted-living facilities.

He said residents of two assisted-living facilities were relocated to a county-run special-needs facility, and seven other facilities evacuated on their own.
Walker said seven assisted-living facilities are running on generators, and the others have power.
Health care facilities throughout Florida have been implementing emergency plans to keep patients safe before, during and after Hurricane Irma, according to the Florida Department of Health.
The focus on such facilities comes at a time when federal, state and Broward County officials are investigating the deaths of eight nursing home residents of Rehabilitation Center of Hollywood Hills.
=============================
7. Idaho - Southwest Idaho Treatment Center in Nampa in a State of Transition
By Torrie Cope, Coeur d'Alene/Post Falls Express, September 18. 2017
Legislation passed this year in the Idaho Legislature will create a new secure wing onto the Southwest Idaho Treatment Center in Nampa.
For 100 years, the facility has served people with developmental disabilities in an effort to stabilize and transition them back into the community. The number of people staying in the treatment center has dwindled over the years — there were 19 people in the center last week when there were 1,000 staying there 50 years ago — but the facility still serves as a safety net for people without other options in the community.
"Even though we have a lot of expertise and can handle people with challenging behaviors, sometimes that's not enough, and we need to be able to lock the doors, put alarms up and put people where they're safe for themselves, staff and the community," said Cameron Gilliland, the deputy administrator of the Division of Family and Community Services who oversees SWITC and all services for developmentally disabled people under the Idaho Department of Health and Welfare's care.
With the passage of the bill, officials are putting together a physical alteration to that wing and developing a set of rules and licensing standards before people will be served there, Gilliland said.
According to the bill's statement of purpose and fiscal note, the legislation has no fiscal impact this year, while the groundwork is being laid. But Health and Welfare officials are exploring options and looking into whether a new facility should be constructed or the existing facility should be remodeled.
The treatment center sits on a 600-acre property owned by the state in Nampa. The property is also home to two city-operated golf courses, a juvenile detention center and Centennial Job Corps.
In 2012, the Idaho Legislature approved funding to develop a master plan for the property so it could be sold and developed. The master plan showed a mixed-use development that included a 113-acre commercial park with office space, retail centers, residential development and hotels.
Health and Welfare planned to demolish existing buildings on the property, including the Southwest Idaho Treatment Center, and move the center to a smaller location. Funds from the sale of the land were expected to be used to build the new location, according to a Health and Welfare report.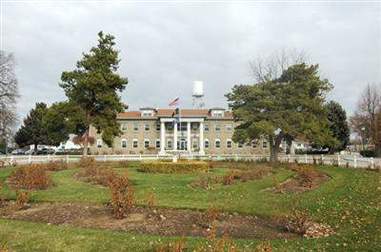 The plan failed to get zoning approval from Nampa, and the state decided to pull the plug on the development plan. Health and Welfare spokeswoman Niki Forbing-Orr said the development plan was pulled because there simply wasn't support for it. At this point, the plan is dead, she said, and there are no plans now to pursue it again.
The property is home to two Nampa city golf courses — Centennial and Ridgecrest — which made the development plan unpopular among local golfers. The city leases land from the state to operate the courses and has an agreement in place to continue leasing both through 2019. But if the land is sold, the courses would likely close. That prompted protests from the golf community.
=============================
SHELTERED WORKSHOPS

8. New York - Closing Sheltered Workshops Will Hurt the Disabled
Commentary by Bob Confer, The Lockport Union-Sun & Journal, September 18, 2017
Last week, I hosted a plant tour at Confer Plastics for a half dozen clients of an agency that serves the mentally or physically handicapped by providing to them jobs and a variety of life services. This was the fourth such tour for the disabled in the past six months.

These agencies have been coming to our factory so we can help their counselors and team leaders educate their clients on the variety of jobs that are available across Western New York in regard to manufacturing, light assembly, warehousing and food processing. We expose them to the tasks involved, show them typical machinery and tools, and discuss the hard and soft skills needed in the workplace.
2017 has seen an increase in the number of these tours – and the need for them – because the disabled and their families have been placed in a difficult, if not dire, situation. Sheltered workshops, where disabled workers could secure consistent and productive employment under the guidance of trained and dedicated caretakers, are being phased out across the country.
Back in 1999, the US Supreme Court ruled that sheltered workshops segregate people, and in turn, violate the Americans with Disabilities Act. For the decade that followed the decision, there was little movement on it. But, since 2009, the US Department of Justice has been playing hardball with the states about this.
In response to the ruling and its enforcement, from 2012 to 2014 the Cuomo Administration developed a multi-pronged plan to bring about the demise of such worksites in the Empire State: The workshops had to incorporate those without disabilities into their employment (to the tune of 25 percent of the workforce) and become businesses instead of service agencies; existing disabled workers were grandfathered while new admissions into standard sheltered workshops weren't allowed; and state funding of the workplaces was curtailed and ultimately fully cut.
Now, disabled workers are scrambling to find career paths and employers that are a fit for them and vice versa.
It's not a good time for these individuals. The men and women who have toured the plant are unsure of their future and are scared of leaving the people and places that they've known for so long and have grown so comfortable with and loving of.
=============================
9. Pennsylvania - Letter: Thanks for Workshop Support
By Arlene Justice, The Sentinel, September 18, 2017
There are some companies that need to be recognized for their good works.
My disabled daughter works for the sheltered workshop of Cumberland-Perry Counties. Thanks to these companies that have provided jobs for those who are not able to hold full-time jobs in our society. In the newsletter that came from the workshop; Pepsico, Teleplan, American Mint, Ames True Temper, Fry, Stephen Gould, Veritiv provided the supplies to be assembled.
Without these companies, in the month of August, life would have been so much more boring with no work activity. I believe the companies who send work for the workshops are rewarded with good products.
As a parent, I am thankful that the workshop is available and my daughter feels like she has been a productive citizen as she woks at her level. Funding (federal & state) only goes so far; but with the support of various companies of the area, life is worthwhile.

Thank you so much for sending work to the sheltered workshop.
=============================
10. Illinois - Opportunities Abound in DeKalb County
By Chris Heimerman, The Daily Chronicle, September 21, 2017
One of my favorite [programs] that I've had a chance to observe is the Walnut Grove Vocational Farm at 33600 Pearl St. in Kirkland. The DeKalb County Community Gardens planted a seed of thought last year: How about a program that teaches people with special needs about agriculture?
Now it's far more than a sapling. It's more like a small but rapidly growing tree.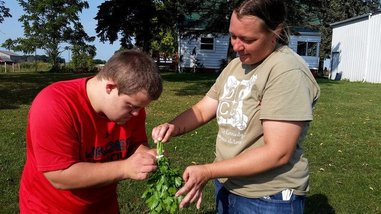 More than 40 people are participating, the vast majority of them high schoolers with special needs who take part in transitional programs.
Here's where things get really powerful. Four participants have turned 22 and are no longer eligible for public education. What do they do? Where do they go? How do they stay busy?
One burning question: How do they continue to not only feel but build self-worth?
We all want to feel as if we're important, that the things we do matter, and people with special needs are no different.
Federal legislation long in the works kicked in a little more than a year ago, making it more difficult for those people to get work in sheltered workshops. The logic behind the Workforce Innovation and Opportunity Act, we're fed, is that people with special needs should be out in the community, working the same jobs as the rest of us.
If only it were that simple. Many of them would love to work those jobs, but simply can't because of their limitations. Imagine if they're forced to work a job they're not qualified for, what that would do for anyone's confidence – to try something at which you're virtually guaranteed to fail.
WIOA has effectively barred people from gaining work at sheltered workshops, such as Opportunity House in Sycamore, until they've been screened to determine whether it suits their needs.
That screening must be done by a government agency. You can only imagine how quickly that process moves.
The Walnut Grove program is "an alternative to sheltered workshops," said Dan Kenney, executive director of DeKalb County Community Gardens.
He said one parent compared their child aging out of school with falling off a cliff. In Kirkland, they can regain their footing. It's a free program.

=============================

FREE OFFER




Exceptional Parent Magazine
(EP)
is now available for free to digital subscribers!

Click here to subscribe:
New.EP-Magazine.com
=============================
GUARDIANSHIP
11. New Mexico - Who Guards the Guardians? State Auditor Says Agency Fails to Oversee Firms
By Colleen Heild, Albuquerque Journal, September 21, 2017
State Auditor Tim Keller's office on Thursday issued an "emergency risk" advisory for the state Office of Guardianship based on an initial review that showed the agency has failed to properly oversee more than 20 private companies that are paid by the state to provide guardian services for vulnerable, indigent New Mexicans.
The Guardianship Office, which has about 900 clients, is responsible for monitoring and enforcing state contracts with private firms appointed by the courts to make the legal and other decisions for people deemed incapacitated through disability.
Keller's office launched an audit of contract guardianship firms at the request of state District Judge Shannon Bacon of Albuquerque after one of the Office of Guardianship's contractors, Ayudando Guardians, and two company executives were indicted in July on federal charges related to the alleged embezzlement of up to $4 million in client funds.
"The OSA's (Office of State Auditor) initial fact-finding revealed a widespread failure of the Office of Guardianship to oversee contract guardians," Keller said in a letter Thursday to officials with the state Developmental Disabilities Planning Council, which oversees the Guardianship Office.
"In short, although the courts and our citizens rely on the Office of Guardianship to protect against fraud and abuse by contract guardians, the Office has few systems in place or resources to discharge that duty," the letter said.
For example, the office monitored only two of 21 guardianship contracts last fiscal year, the letter said. The office didn't address complaints about contract guardians and didn't have formal approved policies for contract guardians for the last fiscal year.
Required periodic reporting by contract guardians was irregular, and the office failed to follow up with those companies that hadn't reported.