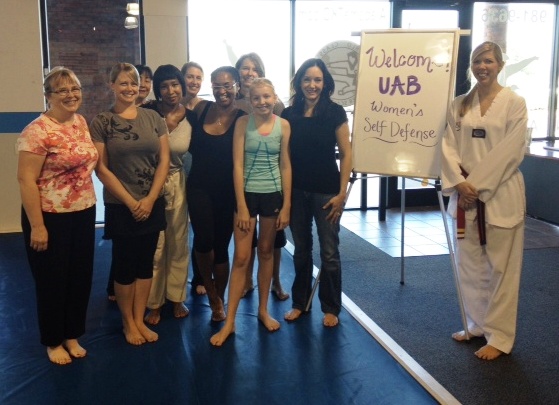 Members Enjoy Fun and Informative Programs


On Friday, October 5th UAB Women's Club members participated in a Women's Self Defense Class, which was very informative and more importantly fun!! Attendees learned and practiced self defense techniques; palming, kneeing, elbowing, plus received an instructional booklet!! We will put this program back on the schedule next season!!
On Oct. 18, a group of UABWC members met for lunch at the UAB Alumni House with author Tina Savas. She presented an interesting talk on women's roles through the decades based on her book Women of True Grit. We had a thoughtful discussion of the changes in the opportunities for women in the business world over the last century.


President's Message
Greetings!
Fall is upon us and the Holidays are just around the corner. Although this tends to be a busy time of the year for everyone I want to remind you that we have many fun and exciting programs scheduled. I hope you will find the time to join us, bring your spouse and invite UAB friends to our events. Members who bring a UAB guest to our programs will have their name put in an end of the year drawing. It is with your attendance and involvement that the UAB Women's Club will be able to continue to offer programs that connect UAB women and offer service opportunities that support women's education at UAB and other campus facilities.

This year marks the club's 45th Anniversary and over the last 28 years we have been privileged to have the opportunity to award 64 women with undergraduate scholarships. In 1984 tuition at UAB was $1,350. 00 per year, tuition today is nearly $7,000.00. These numbers reflect a 518% increase since the UAB Women's Club first gave two scholarships in 1984. This November marks the kick-off for our scholarship fundraising drive and we look forward to making contributions that help deserving women achieve their dreams of a higher education at UAB. Please be on the look out for your mailed "Tea for Tuition" invitation.

On a closing note, we have lost a long-standing, dear member of our club this October, Winyss Shepard. I am happy that I have had a chance to know her and I am sure we all share the feeling of loss for our friend. We will miss your smile Winyss and will treasurer your devotion to the UAB Women's Club. Travel well dear friend. Sincerely, Fran Nagy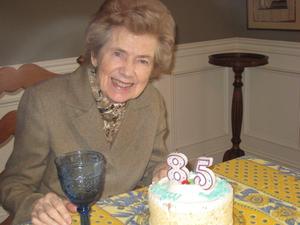 Membership: It's never too late to join!

Do you know someone at UAB who should join the club? Is there new faculty member in your department whose spouse is adjusting to living in Birmingham? We want to make the process easier for them. Our reputation as the "Welcome Wagon" for the UAB community is one we are proud to claim.
Our service project to provide scholarships for women returning to college has been very successful, but as tuition costs increase we need to expand our membership to support meaningful financial aid for these students.
Not to mention the outstanding programs and activities we have planned that foster lifelong friendships among us. We should have no trouble selling the benefits of joining UAB Women's Club to our university colleagues.
The board has made increasing our membership a high priority this year. We have professional attractive business cards available for members to carry and share with potential new members. You can help by sending in your dues and encouraging others to do the same. For more information visit our website.
If you have paid your dues and have not received a yearbook, please email



Welcome New Members


Amanda Erba, 3619 Dunbarton Drive, Birmingham, AL. 35223





Announcement: New Interest Group
Cassidy Lowe has offered to organize a new play group for moms and toddlers. If you or someone you know is home on weekday mornings, give her a call at 637-0135. Moms will visit while children play in members homes. This can be a great way for newcomers to get to know others in the UAB community.

Upcoming Events
Nov. 8, Book Swap Kickoff, home of Liz Weber, Thursday at 6:30 pm
2502 Aberdeen Road, email or call her at 933-7507 by Nov. 5. Bring a book you have read and would recommend and loan to others.
Nov. 12, Mon. 9:45 am Daytime book group, call Judy Cullinan for location 969-3278. Annie Cornwell will review The Language of Flowers by Vanessa Diffenbaugh.
Nov. 14, Wed. 7:30 pm, Night book group, at the home of Roberta Schapiro, 1015 Euclid Ave, 35213, 879-7885, The Good Girls Revolt by Lynn Povich.
Dec. 10, Mon. 9:45 am, Daytime book group at the home of Judy Cullinan, 3597 Springhill Rd, 35223, 969-3278, The Girl who Fell From the Sky by Heidi Durrow.


Save the date!
Holiday Lunch at Historic Rucker Place
Tuesday December 18, 11-1 pm
1804 12th Ave S, parking available
$22 per person includes

Chopped Winter Salad with Crisp Apples, Kale,
Dried Apricots, Coconut, and Manchego Cheese
Entree Selections
Traditional Turkey and Dressing with Sweet Potato Casserole and
Simmered Green Beans & Cranberry Relish
Char-Grilled Steak Shish-Kabob with Bacon and
Fried Basmati Rice with Sauce Chasseur
Vegetarian Plate with Simmered Green Beans, Sweet Potato Casserole, Ratatouille, and Creamed Spinach
Cranberry Biscuits
Dessert, Almond Ball with Warm Chocolate Sauce




In This Issue
President's Comment

Membership

Upcoming Events
BOOK SWAP Nov. 8

Scholarship Fundraiser
Tea for Tuition
Invitation should arrive in your mailbox this week. Make a cup of tea and write your check before the end of the year!
Remember: Memorials may be made at any time on the website giving link




Upcoming Program
Arts
Night at the Alys
Tuesday,
November 27
6 pm at the
Alys Stephens Center Patrons Lounge
Behind the scenes look at the ASC, preview the new season and get the scoop on the future Abroms-Engels Visual Arts Institute and Cultural District.
$25 per person
includes wine, beer, soft drinks and tasty treats from A Social Affair caterers.
Bring your spouse!






























Officers 2012-2013

President
Fran Nagy
Vice President
Valerie Thomas
Recording Secretary
Alicia Koester
Treasurer Claudine Ali
Correspond. Secretary
Beena Thannickal
Parliamentarian
Kyle Wick








































www.uab.edu/uabwc
Pam Thompson, Editor
Email News to
pamrayt@gmail.com