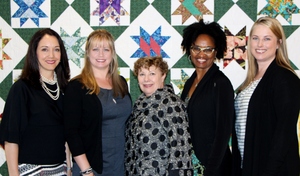 New officers were installed on APril 15th at the Edge of Chaos. Pam Thompson presented a spice symbolizing the duties of each office to the respective officer. Director of Innovation David Hooks reported over 850 meetings have been held and over 25,000 people have visited the Edge of Chaos since its inception eighteen months ago. If you missed it visit the website for more information.

President, Valerie Thomas
Vice President, Victoria Allen
Recording Secretary, Amanda Erba
Corresponding Secretary, Lynne Faulstich
Treasurer, Melissa Yen





President's Message
It's hard to believe that we are wrapping up another UAB Women's Club Year! What an adventure we've had! Starting with our kick off, where we announced our partnership support of the Alys Stephens Eric Essix Concert. Then our incredible success at kicking off the UAB Women's Club Scholarship Endowment; raising our goal of $25,000 while also supporting our Annual Scholarship to allocate $7,000 to this year's recipient, Deanna Poe!! What an awesome group of women are involved with our club! Your generosity is without match!! We want to celebrate this year's exceptional success, with one final event on May 22nd!! We will have a Champagne Reception at the Visual Arts Center!! We hope that you will join in the fun!!

We also expanded our club interest groups this year and the feedback has been very positive! I am looking forward to another year of increased activity with the book clubs, play group, food and fun, walking group, travel group and movie group!! Let me know if you have an idea for a new interest group for next year and we will be glad to add it!!

I am excited about putting our plans together for next year at our Old Board/New Board meeting on May 9th. If you have any suggestions, please feel free to give me a call or send me an email!! We have many small volunteer positions available for next year. If you are willing to commit some of your time to your UAB Women's Club, call or email me to discuss a spot that works for you! Our programs and projects work very smoothly when a lot of members take on small tasks!!

I want to thank every member that participated in some way with our club this year. Some of you I see every month, while others join us from time to time….either way is perfect!! We want to be to you, what YOU need from us!! Have a safe and happy summer and I will see at the Champagne Reception!! Valerie Thomas




UABWC End of the Year Celebration

UAB's NEW Abroms Engel Institute for Visual Arts

Thursday, May 22
4:00 to 6:00

Please join us for a tea and champagne reception to celebrate this year's success of the UABWC and to learn more about this the new home for the University of Alabama at Birmingham Department of Art and Art History and University Galleries.
Light snacks will be served
Parking will be available in the lot behind the building.


Interest Groups
Daytime book group:

Will meet Monday

May 12, 9:45, at the home of Gerda Carmichael, 302 Crest Drive, 35209, 871-9861, Judy Cullinan will review Silver Linings Playbook by Matthew Quick. Bring a salad for lunch.
Evening Book Group: Meets the fourth Wednesday of the month. Contact Naomi Buklad for books and locations.

Birmingham Museum of Art: The Exhibition "Delacroix: A Matter of Finish" will close at the Birmingham Art Museum on May 19. This is a rare opportunity. Be sure to see this beautiful survey of 19th c. French Romantic works! BMA offers Summer Art Camps for children each year. Check out the website www.artsbma.org for the specific weeks for the age of your child or grandchild. Topics include All About Africa and Japanamania. And while on the website, check the dates for First Thursday and for Art on the Rocks. There is something for everyone at your BMA! Contact Judith Hand for more information at jhand@bsc.edu
UAB National Alumni Society Scholarship Run: Friday May 9th, info here


Alys Stephens Center: Check out upcoming events including LIGHT DREAMS II, May 8-10.

In This Issue
Slate of Officers

President's Message

Upcoming Events


Officers 2013-2014

President
Valerie Thomas
Vice President
Kim Brunsting
Recording Secretary
Melissa Yen
Treasurer Claudine Ali
Corresponding
Secretary
Lynne Faulstich






















www.uab.edu/uabwc
Pam Thompson, Editor
Email News to
uabwc1@gmail.com