BBG Terrarium Building-March 15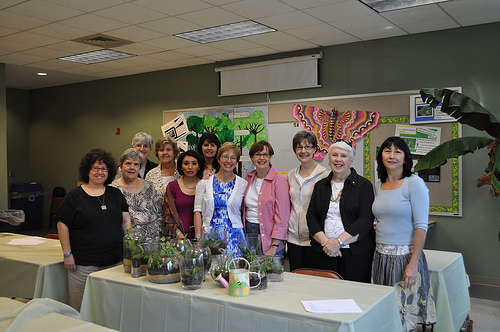 Several UABWC members gathered at the BBG on March 15th for a wonderful program on terrarium building. Hope Long, BBG librarian and terrarium aficionado, shared her talents, experience and enthusiasm for these beautiful mini-gardens. She provided helpful reference materials, entertaining instructions and a wide variety of options for assembling terrariums. Freshly inspired and equipped with a beautiful glass vessel, we were set loose to get our hands dirty and build a living masterpiece. The results speak for themselves!
A Message from the President
May is here and for all of us in the UAB Women's Club this is a time of feeling good. We have had a year highlighted by many wonderful programs offering opportunities to explore, learn and enjoy together. Just last month we celebrated the culmination of our service efforts with the Annual Scholarship Luncheon. The thoughtfulness and generosity of so many of our members made it possible for us to award scholarships to four very deserving women at UAB. At that same luncheon, our newly elected officers were installed. Even now as we wrap up the 2011-2012 UABWC season, these new officers are working and planning for our next year of events and service.
With my term as president winding down, I would like to share a message of gratitude. This has been an important year for me. It has been an honor to represent the UABWC and a privilege to serve alongside our officers and committee members. I am sincerely grateful for the connections made, the lessons learned and the support offered throughout the year. Thank you to all for the kind words, helpful suggestions, participation, hard work, generous contributions and inspiration. I value my UABWC membership and look forward to the chance to work and play with as many of you as possible in the upcoming year of activities and service. Sincerely, Kyle Wick



Scholarship Luncheon and
Installation of Officers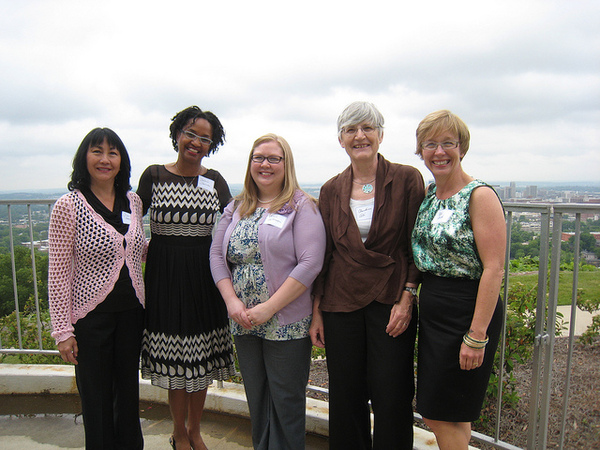 A lovely room with a stunning view of UAB and downtown was the setting for our special luncheon at The Club on Tuesday, April 17th. UABWC members welcomed a few special guests for the event. Sarah Patterson, one of our four scholarship recipients, graciously joined us. Heather McKnight and Christina Blackmon, both from the UAB Office of Student Financial Aid, were also in attendance. After the introductions and opening comments, we were served a delicious lunch of fruit salad, quiche and crème brulee. Annie Cornwell, UABWC Scholarship Chair, shared a short biographical piece for each of our scholarship recipients before introducing Sarah Patterson and presenting her certificate.
Following the scholarship award ceremony, Edith Bauman inspired us all to leadership as she introduced and installed the 2012-2013 UABWC officers.
Our incoming president, Fran Nagy, closed with the presentation of a gift from the Women's Club to retiring president, Kyle Wick.
The gathering was satisfying in so many ways!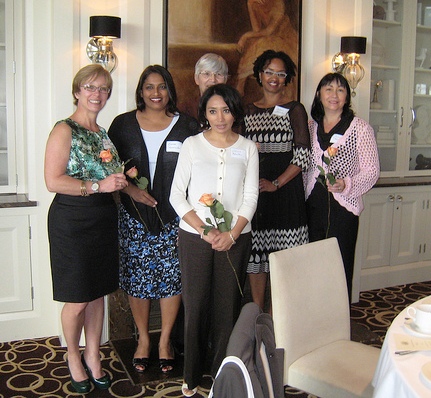 2012-2013 UAB Women's Club Officers
President-Fran Nagy
Vice-President/Program Chair-Valerie Thomas
Treasurer-Claudine Ali
Recording Secretary-Alicia Koester
Corresponding Secretary- Beena Thannickal
Parliamentarian-Kyle Wick

May Meeting
Please join us for Jazz on the Porch at Rucker Place, 1804 12th Ave. South on Thursday, May 3, 2012, from 5-8 pm. Admission is only $5 and you'll enjoy a live jazz duo, the spectacular Birmingham skyline and sunset with a cool drink from the cash bar. There's also a Wine and Beer tasting for $5 each. Bring your appetite and enjoy selections from the May Menu which includes Rucker Burger with Wickles, Ketchup & Mustard $8, Greek Burger with Spinach & Feta Spread $9, Cheesburger $8, Heirloom Tomato Burger $10, Char-Grilled Chicken with White BBQ Sauce $8. CASH ONLY!!

This is our last get together before our summer break, so please join us. Bring your spouse and or another UAB friend!! This will be a great opportunity to show a new comer how much fun we have!! Please rsvp by May 1st, so we can save a spot for our group!! Please call Valerie Thomas at 930-5892 or click here to email