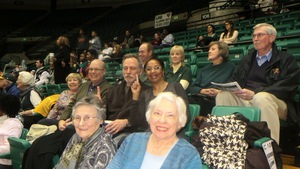 Club Members Join Alumni for
Women's Basketball

A vocal group of fans enjoyed dinner and the Basketball game at Bartow Arena on January 24th. More photos on our Facebook page, click

here

and like us, please.

February program: Focus on Heart Disease

Club members gathered at The Club on February 5th to learn about new surgery techniques and how to protect ourselves from heart disease. Lauren Roden, Go Red for Women Director presented statistics on women's heart disease. Dr. Louis Brunsting, spouse of club member, Kim, spoke on his work with less invasive surgery techniques through robotics. The program was very informative.

GO RED FOR WOMEN CHALLENGE:

We would like to have a UABWC table at the upcoming Go Red for Women Luncheon at the Wynfrey on May 10th. The sponsorship is $2500. If you would like to attend for a $250 donation, or if you would like to donate another amount but cannot attend, please contact Kim Brunsting by

email

or call 615-497-4787

President's Message
Greetings!
As we begin another Season on Sunday March 10th by setting our clocks ahead, we are also preparing for next year's board and committees. The Nominating Committee has invited and selected members to fill the upcoming Board positions. The nominees for Officers for the 2013-14 term are Valerie Thomas- President, Kim Brunsting-Vice President, Melissa Yen-Secretary, Claudine Ali-Treasurer, and Lynne Faulstich-Corresponding Secretary. Voting for the Election of Officers will be held at the Meet and Greet Coffee and Spring Business Meeting on March 20th at the home of Liz Weber.
The Scholarship Committee has received applications for our Scholarship Awards and the final process is in play. We have exceeded our fundraising goal this year of $6,000 by $1,043.75 this brings our total to $7,043.75! More information on the selected recipients will be announced in our May/June Newsletter.
This year we set another goal that has been very successful. You were asked to help increase membership by passing out business cards, inviting potential members to our Programs, and encouraging them to join our club. We have had an amazing response from your efforts and our membership has grown to include 12 new members! Please let us know if you would like to have more business cards.
This year also marked our 45th Anniversary of the UAB Women's Club. The draft book of our History that was presented at the Kick-Off luncheon is in the final editing process. Our deadline for its publication and presentation will be the April meeting.
Many thanks to all of you, it is through your care and membership that the UAB Women's Club has survived. It has been and will be YOUR ideas, dedication, participation, and passion for our service work that will insure this club will continue to grow, provide opportunities to support women, and sustain for another 45 years.
With Sincere Gratitude,
Fran Nagy


Membership: It's never too late to join!

Do you know someone at UAB who should join the club? Is there new faculty member in your department whose spouse is adjusting to living in Birmingham? We want to make the process easier for them. Our reputation as the "Welcome Wagon" for the UAB community is one we are proud to claim.
Our service project to provide scholarships for women returning to college has been very successful, but as tuition costs increase we need to expand our membership to support meaningful financial aid for these students.
Not to mention the outstanding programs and activities we have planned that foster lifelong friendships among us. We should have no trouble selling the benefits of joining UAB Women's Club to our university colleagues.
The board has made increasing our membership a high priority this year. We have professional attractive business cards available for members to carry and share with potential new members. You can help by sending in your dues and encouraging others to do the same. For more information visit our website.
If you have paid your dues and have not received a yearbook, please email



Welcome New Members


Bettina Byrd-Giles, bettinebyrdgiles@gmail.com
Jennifer Giles, jenniferdgiles@gmail.com
Linda Lucas, lucas@uab.edu
Debi Mestre, dmestre@realtysouth.com
Rebecca Placzek, rcplaczek@gmail.com

Upcoming events
March 11, Day Book Group, 9:45 at the home of Harriet Cloud, 705 Fairfax drive, 35209. Moonwalking with Einstein, by Joshua Foer, call 871-0582 for directions.
March 14, Book Swap, Thursday, 6:30 at the home of Beena Thannickal, 4146 Somerset Ridge Pl, 35243, 747-0899
March 27, Evening book group,7:30 pm, The Glass by Shannon Moroney, at the home of Roberta Shapiro, 1015 Euclid Ave, 35213, 879-7885
April 8 Day Book Group, 9:45 at the home of Gerda Carmichael, 302 Crest Drive, 35209, 871-9861
The Well and the Mine, by Gin Phillips.





In This Issue
President's Message

Slate of officers
Upcoming Events
**BOOK SWAP**
March 14th. 6:30

Upcoming Programs

Meet and Greet,
Election of Officers
Wednesday,
March 20th,
Join us to welcome Nancy Watts, the wife of our new president, at the home of Liz Weber, 2502 Aberdeen Road, 35223, 933-7507
RSVP by email or call Liz by March 15th.

Save the date!
April 5th
Petals From the Past Nursery Field Trip
Invitations emailed 3/6. Reservations by March 21st.

April 30th,
Installation of Officers
Luncheon at The Club

NOTE: UAB is updating the website and we do not currently have access to update our information. We hope to get new access ID soon.





Officers 2012-2013

President
Fran Nagy
Vice President
Valerie Thomas
Recording Secretary
Alicia Koester
Treasurer Claudine Ali
Correspond. Secretary
Beena Thannickal
Parliamentarian
Kyle Wick





























www.uab.edu/uabwc
Pam Thompson, Editor
Email News to
pamrayt@gmail.com