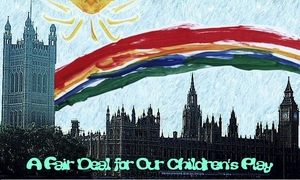 Fair Play for Children
fpfc@fairplayforchildren.net
Press Release




for immediate release





National Play Day - Britain Must become Play Wise for its Children



Today is National Play Day. In the wake of the report published today by Play England, Play Scotland, Play Wales etc revealing the extent of hostility to children playing, Fair Play for Children is launching a concept called 'Play Wise'.

Background

The number of children today in England is around the same as it was in 1931, over 11 million. In those days, the majority of children played freely in car-free streets. Including the parked car. Today, car owners (adults) have privatised that space in residentialn streets almost completely. [In its report 'Stolen Streets, Stolen Childhood'*, published in 2011, Fair Play estimated that up to 3/4 million acres of residential street space has been subject to this, and in a further survey, also online, its FoIs to local councils in England revealed just over 16,000 play areas or about 1 acre of playground for every 700 children. Fair Play estimates that, to achieve even 100 children per acre would require 80,000 acres of open space where they live and cost at least £6.5 billion.

According to further FoI exercises, mainly children and young people have been issued with 55,000 Acceptable Behaviour Contracts often because they were outside, annoying neighbours. The new Antisocial Behaviour, Crime and Policing Bill proposes the power of courts to impose injunctions on children as young as 10 for behaviour that could annoy or cause nuisance.

The Proposal

Fair Play for Children believes the evidence is there not only of utter neglect of children's fundamental play needs, and of their Right to Play (UN Convention on the Rights of the Child) but also of the serious consequences now being visited on children as a consequence - lack of exercise, over-protective parents, police reacting to complaints by nearly always acting to curb children being out, lack of open space near to home, increaisng evidence of stress and behavioural problems associated with lack of informal, in-the-street PLAY.

It has launched Play Wise, a simple concept: that children need to become the main drivers of deciding what they want re their Play. It envisages:
neighbourhood-level Play Wise Partnerships (PWP) where the local children, with their parents, engage with the community, local groups, councils, schools, local business to work out what activities and environments they wish to see developed




those Partnerships able to develop a huge range of responses from e.g. a single day for a Play Day in local streets, parks etc to Activity Weeks run by parents, to Play Streets or even just closed-off residential streets where 10 mph speed limits apply for certain periods, to Play Stores, right up to more substantial projects including landscaping, play projects, and many more ideas which children have over the years told Fair Play they want;




PWP linking together to share experiences and ideas



A network of Play Wises Buses which could help to develop every kind of activity, and also serve as focus for the needs of children to play in their own communities.

Jan Cosgrove is the National Secretary of Fair Play for Children which covers the UK. He comments: "Our own work and that of colleague organisations in the Four Nations demonstrates that our children are in crisis, a most fundamental need and right are under attack, with increasingly serious implications for our children and their communities. We have to turn back the tide, be less selfish and intolerant, or we will reap the consequences of continuing neglect and hostility. Whilst MPs and Councils need to wake up and do more, we believe it is children with the support of parents and communities who can start to turn the situation around. Token responses, such as a play street once a month if neighbours don't mind are useless and a deception. Children need to be out, they are safest and best-served close to home, which enables also parents and neighbours to keep an eye, and the nearest space for many is the street. Streets were not made for cars, they existed before such things, they are for human communication. Play Wise Partnerships will also introduce our children to civic engagement.

"It's time for Britian to become PLAY WISE!"

END

Jan: Telephone 01243-862072

* Publications mentioned are linked on Fair Play's webpage : http://www.fairplayforchildren.org



---
---
BMR FPfC
32 Longford Road
Bognor Regis, England PO21 1AG
UK


Read the VerticalResponse marketing policy.