---
Dear Families,
We have an action-packed week ahead with many opportunities to contribute to and connect with our community. Beginning Monday 12/3, we start collecting for our Winter Warmth Drive. All new and gently used gear collected will be donated to support our local families receiving services from St. Vincent de Paul, First Place Family Center. Look for bins outside the library.
Tuesday 12/4 is our December Community Night Out at Cornucopia. Charlemagne PTO will receive 20% of qualifying orders (including take-out and gift cards). The offer is good at both locations all day. If your looking to get some good eats this Tuesday consider taking a friend or the whole family and supporting our school.
Coming up Wednesday12/6 is another community Walk and Roll to School Day! Bundle up and brave the cold to test out the new bike lanes on Amazon Parkway. See you out there on wheels and feet!
Also, please make sure to check the lost and found for your students' belongings over the next 2 weeks. Anything not claimed by Dec 14th will be donated.
As a final thought,
we realize the holidays can be a stressful time for families and in turn our children. So let us remember to be extra mindful about what's important and focus on kindness, inclusion, and compassion this season.
Have a great week!
Brooke Parrill and ErinMarie Langsdorf
PTO co-chairs
---
Upcoming Events:
Dec

3rd

:

Winter Warmth Drive Begins
Dec

4th

: Community Night Out at Cornucopia
Dec 6th: Walk and Roll to School Day
Dec

14th

: Holiday Market (after school in gym)
Dec 14th: Winter Warmth Drive Ends
Dec

20th

: PTO Meeting 6:

30pm
Dec 22-Jan 7th: Winter Break
---
Direct Drive:
Thank you to everyone who has made a contribution to our direct drive this past week.
To keep our work going, in this season of giving, we hope you will consider a generous donation to the Charlemagne PTO, our non-profit
organization. Your contribution
insures
an outstanding experience for every French Immersion student from kindergarten to 5th grade.
All of the funds we raise from the Charlemagne PTO goes to directly subsidize staffing needs.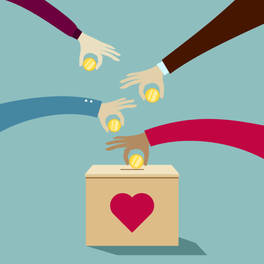 Our campaign will run throughout the year.
Consider donating once or monthly to support our efforts to maintain our current student to staff ratios.
Your tax-deductible donation can be made in two ways:
• Go online to https://squareup.com/store/charlemagnePTO.
• Send a check to Charlemagne PTO at the school: 3875 Kincaid Street, Eugene, OR., 97405.
For your records, our tax ID number is 46-1825220.
We recognize not every family can contribute equally to a direct drive request. We also know our families give in other equally important ways and are grateful for the time spent in classrooms and at community events. We recognize all types of support are necessary and valuable to the success of our school!
---
Connecting our program, K-12!
We're looking at revitalizing a small-scale Camp Rigolo by providing mini-day camps on elementary no-school days beginning this spring and into next year.
We need two or three volunteers to join us for an exploratory meeting on Thursday, January 24, 2019 at 6:00 pm at South Eugene High School.
Please email Courtney if you're interested!
---
Important Reminder: School Rules Still Apply!
If you are staying after school to play on the
playground, please help us reinforce positive student behavior. All

school rules do apply and if you have given your student permission to stay after school, we do expect them to follow adult directions in order to stay safe. Please remember we share our space with several after-school programs and following the rules we've
established as a school lends clarity and consistency for students.
Thanks for your help and support.
---
Traffic Update: Changes on East Amazon-- please take precautions!
Now that the construction is done on East Amazon, we have fantastic new bike lanes to support more sustainable transportation. What this also means is that car lanes are limited in size and we all need to slow down, plan an earlier carpool arrival time, watch for oncoming traffic and not block lanes in the opposite direction (please see photos below). In addition, you can always consider turning earlier when you are southbound on East Amazon and take Kincaid Street to school.
---
Winter Warmth Drive:

Our Winter Warmth Drive Starts this week and runs until Dec 14th!

Please consider donating new and gently used clothing for children and adults: coats, sweatshirts, sweats, jackets, hats, gloves, boots and socks. The collection will begin after school Monday 12/3.

The collections will be donated to families who receive services at the St. Vincent DePaul First Place Family Center.

Collection boxes are available outside the library.

Please contact Mara Gregory for more details.

---

Community Night Out at Cornucopia:

Join us at Cornucopia THIS Tuesday, December

4th

!




Visit either Cornucopia location in Eugene for a meal with Charlemagne friends to participate in our December Community Night Out (

CNO

).

*20%

of proceeds from those who present

our flyer

will go to Charlemagne PTO to support programs at our school. Spread the word and invite your family and friends to join in!

(Dine in, Take-out, Delivery and gift cards count too)
---
Give Back to Schools Program at
Spring Creek Holly Farms

!

Get a group of friends together and make the trip out to Spring Creek for your holiday greenery needs. There are no limits on trees and anyone can buy a tree and have the money donated to your school!
We also have wreaths, table decorations

,

and

holiday greens.

Open every day 9-5 from the day after Thanksgiving to December 23
Spring Creek Holly Farm 43111 McKenzie Hwy
Leaburg
OR
94789
Happy Holly Days!

---
&

---




Get your handmade crafts, collectibles and delicious baked creations ready! Its almost time for the

Charlemagne Community Holiday Market.




This is a great opportunity for students to get creative and have a fun lesson in economics. They can set up a table, set their prices and then buy/sell and trade their goods with other vendors. Some students have even used this event to raise money to donate to charitable causes.




Some ideas students have previously done: Holiday cards, friendship bracelets, cat toys,

pokemon

' cards, baked goods, comics, coloring books, ornaments, lip balms.




When:

December

14th

after school

1:

45-4pm

Where: the Charlemagne Gym

Who: The entire community is invited to participate! Students, parents and teachers/staff. A table sign-up sheet will be posted near the office after this week!




---

Help Wanted:

---

Spring Soiree:

Parents and Friends of Charlemagne,

Our annual Soiree will be Friday, April 12, 2019. Help be a part of our communities biggest event. It's going to be a ton of fun!

We are seeking:




*Volunteers to help lead sub-committees

*Business sponsorships

*Goods or service donations from your business

All donations are tax deductible. Our fundraising dollars support classroom assistants and interns. These assistants reduce the student to teacher ratio, provide additional support for students, and share French culture.

Please contact our event lead coordinator Mara Gregory to support this event.




---

Mardi Gras Committee:

Our Mardi Gras celebration is right around the corner Friday

2/22

.

It is a fun community focused carnival that includes many games, face painting and a photo booth.




We need some enthusiastic volunteers to help us coordinate this event! Please contact

---

Participating

eScrip

Retailers:

While shopping this holiday season please consider supporting these businesses as they will donate a percentage of your purchases to the school. This is free money for our school of the purchases you already are making. All you need to do is to sign up and keep your information up to date.

Market of Choice: 1) go to escrip at https://secure.escrip.com/signup/index.jsp; 2) Type in 'Charlemagne French Immersion Elementary'; 3) Register your payment cards; 4) Shop with your registered cards. Register your rewards card HERE:

Amazon Smile: 1) go to https://smile.amazon.com/; 2) type in 'Charlemagne at Fox Hollow PTO Company' & then select. AmazonSmile uses the same log in as your regular Amazon account. But you must shop at smile.amazon.com to contribute.

Fred Meyer's Community Rewards Program

: Sign up for the Community Rewards program by linking your Fred Meyer Rewards Card at

www.fredmeyer.com/communityrewards

. You can search by name (

Charlemagne PTO)

or by the non-profit number (

QJ541

)



---

More Volunteer Opportunities:

PTO Class representatives:(Mme Sion, Mme Kim, Mme

Anou

, Mme King, Mme Jana, Mme Grabowski)
Talent Show Co-Coordinator




---