---
Apply Now for School Choice!
Dear Families,
If you have a sibling that you would like to enroll here at Charlemagne next year you MUST go to the 4J Lottery an enter the lottery for that child by January 31st. Failure to do so could mean your child does not get into Charlemagne. Apply now at https://4jschoolchoice.com/apply/.


Mardi Gras is fast approaching – please sign up now online to volunteer to participate in this great community-building event!
We are still in a seasonal period of head lice activity. For some tips and facts about head lice, see the attached document.
Have a great week!
Chris Miller & Brooke Parrill
PTO Co-Chairs
---
Upcoming Events
February 2: No School - Grading Day
February 19: No School - President's Day
---
Thank you for supporting Math Madness!
We're still counting donations & will report later what was raised & class participation.
Many Thanks to this year's Math Madness team:
• Rachel Anderson: Mom of Felicity (1st), Calvin (2018 kinder), & Ramsey (3rd - Edgewood) Anderson
• Paulomi Bhattacharyya: Mom of Ishika (4th) and Ayush (kinder) Chakraborty
• Julie Kim: Mom of Nina (4th) & Ava (2018 kinder) Vivek
• Sudha Rajendran: Mom of Adarsh and Akshaya (2nd) Rajendran
• Marcia Yu: Mom of Dylan (4th) & Sophie (kinder) Myrick
In case you haven't had a chance to make a donation, please use this link:
https://squareup.com/store/charlemagnePTO/
100% of donations go towards funding educational assistants/interns & are tax deductible.
Questions?
Check out the Math Madness website: http://charlemagne.4j.lane.edu/get-involved/fundraisers/math-madness/
---
Treasure Island at Rose Children's Theatre
Rose Children's Theatre proudly presents their production of Treasure Island. The story of Treasure Island is a classic. Originally written by Robert Louis Stevenson in 1883, this adaptation by ArtReach Children's Theatre Plays' Kathryn Schultz Miller encompasses all the elements needed for an entertaining story. Rose Children's Theatre invites you to join them on a slightly different adventure, as Jim Hawkins, after having his worst day ever, dreams of a better life as a pirate. He meets pirates Billy Bones and Long John Silver, as well as beautiful mermaids, dancing crabs, and some very vocal parrots.
Performances are February 16 and 17 at 7:00 p.m. and February 17 and 18 at 2:00 p.m. at The Wildish Theater, 630 Main St, Springfield, OR. This cast showcases the talent of 51 actors in grades 3 through 10, under the expert direction of Judy Wenger and Rebekah Hope. Please join them on this adventure and cheer them on as they set sail on the wild seas.
Tickets for Rose Children's Theatre's Treasure Island may be purchased online at https://rosechildrenstheatre.org/ or one hour prior to showtime at the Wildish Theater box office. Tickets are $12.00 for adults and $9.00 for children and students.
---
Repeated from Previous Weeks
The articles below were in a previous week, but are included again for your reference.
---
OBOB Update
We are holding weekly lunchtime meetings on Thursdays for grades 3-5 to go over example questions and hold mock battles. Official school battles are Feb. 20-23. If you would like to volunteer during a lunch meeting or to help run the school battles, please email charlemagneobob@gmail.com.
There is now a Sign-Up Genius page for reserving rooms after school to hold meetings with your child's OBOB team if you wish. Note that all room requests must go through this online sign-up. There are no sign-ups in the office. Also, please read all of the rules and responsibilities when signing up. And please note that a parent must be with the children at all times.
---
Mardi Gras - Save the Date!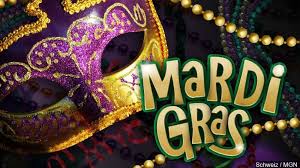 Charlemagne's annual Mardi Gras carnival is February 9 from 5:30-7:30. Carnival games, photo booth, face painting, food, friends, and family.
Parent volunteers are needed for help with set-up, which will be after pick-up on Friday, Feb. 9, and clean-up, which will be immediately after the carnival.
Contact Erika at enoteboom@hotmail.com if you're able to help or for any additional information, or sign up now online!
Also needed are dessert donations for the cake walk. If you're able, please drop donations in Room 1 on Feb. 9.
---
The 2018 Wordcrafters Young Writers Short Fiction Contest is ON!
All elementary, middle, and high school students in students in Lane County, Oregon are eligible, whether they attend public, private, or homeschool.
There will be awards for the top 3 stories in each age category. The winning stories will also be published in our 2018 anthology.

STARTING NEXT WEEK: We'll begin sending out weekly writing prompts that can be used for inspiration.


All the details and online entry form can be found here:
https://wordcraftersineugene.org/young-writers/contest/
---
Traffic Safety
Reports of traffic issues have come in regarding backups on E. Amazon and 39th. For the safety of all, please consider these safety guidelines:
• If two or more students attend, the older student(s) should use the drop off/pick up zone of the youngest sibling.
• Do not stop where your child is standing for a pick-up, especially if there is an empty space in front of you to pull forward. Continue to move forward so traffic is not backed up. Your child will make her/his way to your car on the sidewalk.
• Drive slowly and do not "leap frog" ahead to an open space. If everyone pulls forward, this should end that practice.
• Do not drop off at the front door, continue to pull forward to ease traffic flow.

• Please refrain from using your cell phone in the pick-up line.
• Do not get out of your car. If you need to get out of your car to support the entry/exit of your child(ren), then please park in a designated
space.
---
T-Shirt and Sweatshirt BLOWOUT!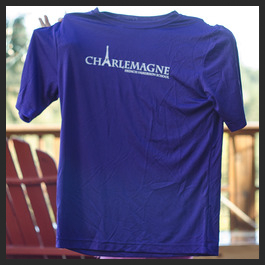 There are still lots of t-shirts and sweatshirts left in the main hall display case! Come grab them while you can:
$8 for t-shirts and $15 for sweatshirts.
Just leave a check with Bernadette in the front office.
---
Charlemagne's Annual Soirée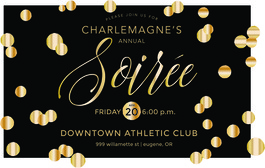 Mark your calendars! Our annual Soiree will be Friday, April 20, 2018, at the Downtown Athletic Club. It's going to be a ton of fun! Looking for ways to contribute? We are seeking:
• Business sponsorships
• Goods or service donations from your business
All donations are tax deductible. Fundraising dollars support classroom assistants and interns. These assistants reduce the student to teacher ratio, provide additional support for students, and share French culture.
Please contact: Jessica Barnhart at jessicatbarnhart@comcast.net or Elisha Hibbard at elishahocking@mac.com
---
Winter Session Of After-school Golf & Tennis Starts Soon!
All levels K-5 are welcome whether you are brand new, or you are trying to earn your next TGA color level. TGA brings the golf course and tennis court to you, making it convenient and affordable to learn and play golf or tennis right on your school campus in a fun and safe environment. All equipment is provided! Financial aid is available!
Sign up today at www.playtga.com/soregon!
Tennis – Wednesdays 2:55-3:55 p.m.
Golf - Fridays 1:00-2:00 p.m.
Location: Charlemagne playground/field/gym
---
Oak Hill Second Semester After-School Enrichment
February 5 – June 1, 2018
Oak Hill School is thrilled to announce all after-school programs are open to the public and registration is open for the 2017-2018 first semester. This is an outstanding after-school opportunity for students of all ages.
See the Oak Hill website for more information.
---
Treetop Academics: Robotics!
Our Winter term Science class will be a multi-disciplinary experience in electronics leading to integration in robotics. This class will introduce the fundamentals of circuitry, electronics, programming, and integrating these concepts with Robotics and hands-on applications. Students will be given
differentiated challenges, tasks, and opportunities to increase their
own individual abilities while working with others in groups. We
will be working with simple circuits and electricity, focusing on the
fundamentals into the larger world of robotics and programming.
If your student has ever looked at an electronic device and asked,
"How does that work?" or "How can I make that?" then, this is the
right place to start. The aim of this class is to offer opportunities for
each student that will build a foundation in the content areas from
the ground up. This will be a comprehensive class with a focus on
supporting the student to explore, create, and learn in the world of computer science, technology, robotics and programming. Currently, this is term one of a two-term experience in Electronics and Robotics. No prior experience is necessary.
Please see the Treetop Academics website for more information.
---
Rubik's Cube Competition & Teacher Workshop
Saturday, Feb 24, 2018
North Eugene High School -
Eugene, OR
Read the More Information page for competition details and how to borrow or purchase cubes for the competition.
Competition & workshop are free - No entry fees or workshop charge!
Competition registration closes February 2
Click Here To Register for Competition
---